As Sonoma County LGBTQI (Lesbian, Gay, Bisexual, Transgender, Queer/Questioning, Intersex) Pride enters its third decade, the Pride Committee, as well as our community, is excited about the many opportunities for growth that will open up as the event returns to Santa Rosa.  Previous Pride events in the vibrant city at the heart of Sonoma County brought 4,000+ participants to both the parade and the festival.  It is the committee's goal to motivate even greater numbers to enjoy the three-day event – after all Sonoma County is home to the United States' second highest per capita population of folks who identify as LGBTQI.
Sonoma County LGBTQI Pride is extending an invitation to all those in the business community to partner with us and to support this diverse population of the Sonoma County residents, as well as the many visitors who flock to NorCal from all over the world.  Have a look at our Sponsorship Guide, which offers a wide variety of participation levels, and let us know how you will join us.  We are seeking local and national partners in the many aspects of our event, including the latest additions to Pride: Discover Santa Rosa: Curated Merchant & Pub Tour; The North Bay's LGBTQI Timeline Exhibit Unveiling; The Kids Zone; Pride @ The Laugh Cellar; Pride Sunday To Do List: 1) Brunch 2)
Shop 3) Matinee.
The 2018 Sonoma County PRIDE Celebration Weekend is admission-free and open to all in the community. To make this possible we need the support of volunteers, donations and your generous sponsorship. Your tax deductible support will help to make this year's PRIDE Celebration a success as well as to provide seed money for next year's PRIDE events.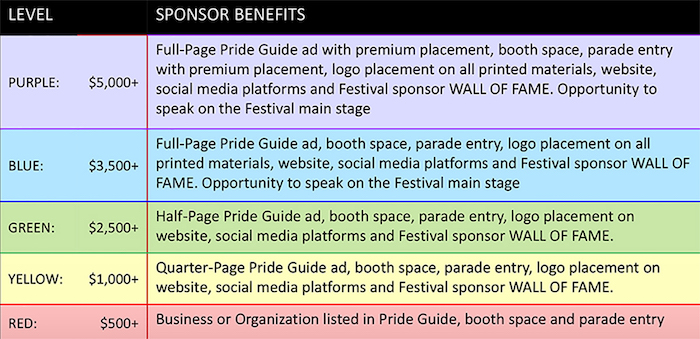 not ready, more information?
please complete this form