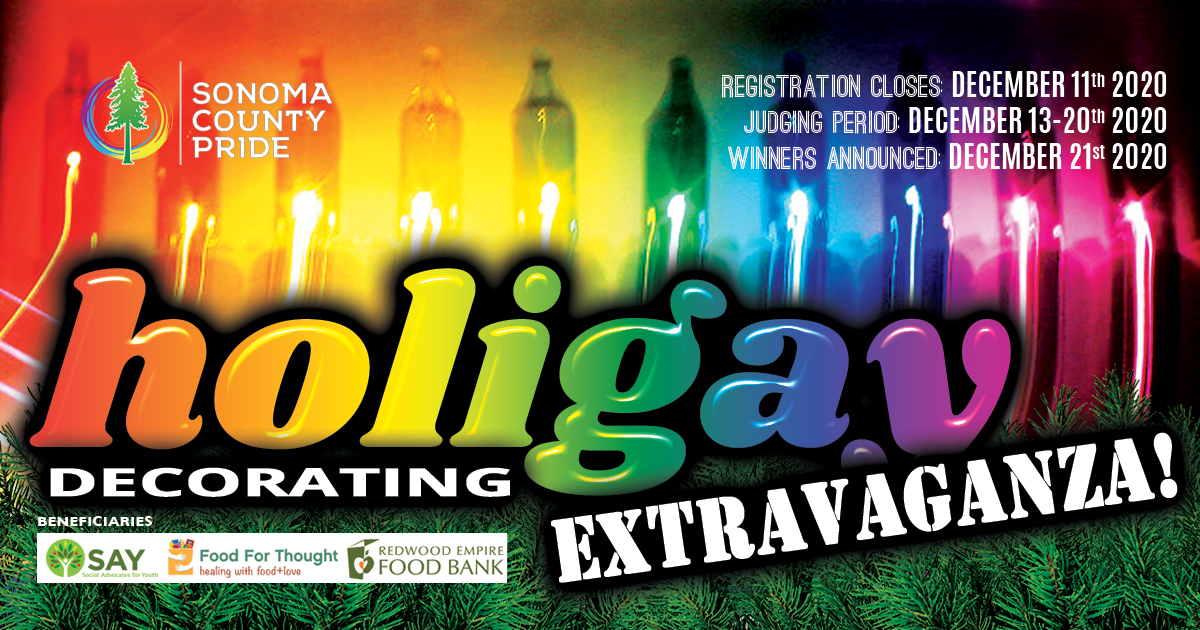 Holigay Decorating Extravaganza!
Sponsored by:

Judging period:  December 13 – 20, 2020
We'd like to thank everyone who registered for our first annual HoliGay Decorating Extravaganza! This is also a collection for items to be donated to Social Advocates for Youth (for their Street Outreach Kits), Redwood Empire Food Bank, and Food for Thought. Drop off for donations To Be Announced. Share your photos of your visit to our HoliGay homes, and post them to Facebook or Instagram using
#SoCoHoligays2020
for a chance to win a pride collection package from our sponsor
PrideOutlet.com
. let us know which is your favorite house, And help them win the fan-favorite category!
Participating homes:
Santa Rosa:
2276 Dancing Penny Way 95403
700 Brigham Ave 95404
515 Talbot Ave 95405
2170 San Antonio Dr 95405
176 Alderbrook Dr 95405
2044 Banjo Dr 95407
2033 Banjo Dr 95407
Rohnert Park:
Cotati:
Windsor:
1342 Birdie Dr
701 Miramar Street x Montego St
Meet our Judges
some educators, first responders, veterans, spin instructors… folks who have been working to keep us safe and sane and healthy during 2020
Christopher Mahurin:
Openly Gay Santa Rosa Police Sergeant
on the LGBT Task Force for the Human Rights Commission
Laurie Fong:
President of SR City Schools Board of Education Former principal at Montgomery High School
Ross Hause:
2020 Sonoma County Teacher of the Year
Currently finalist for California Teacher of the Year
6th Grade Teacher at Luther Burbank Elementary School and Girls Soccer Coach at Montgomery High
Kevin Garman:
Founding instructor at Rise Cycle Company
Engineer at Medtronic, as well as their PRIDE COMMUNITY OUTREACH COORDINATOR
Karen Roberts:
a Navy Veteran, as well as the Founder of Haute Butch – a clothing line for anyone who prefers menswear-inspired finishes
A Sonoma County Pride Benefit.
Participation Rules
Participation is open to all residents within the boundaries of Sonoma County.  House must be safe to view and the road must be accessible by vehicle.
Entry is $25.00 and is a fundraiser for Sonoma County Pride.
Sonoma County Pride Board of director members is not eligible to enter.
Applications will be available starting on November 23rd and must be submitted no later than 11:59 pm on December 11th.   All applications must be submitted via the online form with payment.
The contest is for exterior decorations only, including decorations in windows that are visible from the exterior. Judging will be done from outside the residence only.
Judging will be based on "curb appeal" as viewed from the street only. Therefore, only those decorations located on the street side of the property will be judged (corner lots will be judged from both streets). Judges will not enter the property to view back or side yards.
Participants agree to have their address posted on the Sonoma County Pride website, Santa Rosa Gaydar Website and Meetup page, and Sonoma County Pride and it's social media affiliates.
Participants agree to have one or more photos of their decorated residence exterior posted on the Sonoma County Pride Website/Facebook page and Santa Rosa Gaydar Facebook page. Pictures may also be posted in other social media outlets and in local media publications or websites. Participants agree there will be no compensation of any kind for said posting or publication.
Prizes will be awarded in the following categories:
Originality and creative use of lights and decorations;
Use of theme "Season of Unity and Love;" and
Overall presentation. (Grand Prize)
Fan Favorite
Judging will be done throughout the week of December 13 – 20, between 6-9 pm on each day.
Participants should ensure that all lights and decorations are in place and activated during the judging period.
Prizes will include TBA!
Winners will be announced on Monday, December 21st at 5:00 p.m. via the Sonoma County Pride Website and social media outlets, and by email to each participant.
Be creative, be festive, have fun.  Happy Holidays!