JOIN US – JUNE 3, 2023
NOON to 5 PM
This year's 38th annual Sonoma County Pride Celebration spans three days of events and activities designed to appeal to a large diversity of tastes as well as to invite our neighbors from the entire bay area to join the weekend fun. Our festival will be returning to the fabulous downtown Santa Rosa on Courthouse Square.
Our 2023 theme, COMMUNITY!,  is all about being together in the spirit of diversity and belonging.  Celebrating our connectedness through our vast differences and our sameness to realize we are all in this together. Each of us is a unique individual, yet we are united.
Before our Festival begins, join Sonoma County Pride as we celebrate diversity and queer culture with our parade! Details Click Here!
Sonoma County Pride is the lesbian, gay, bisexual, transgender, and queer (LGBTQ) community celebrating Sonoma County, CA.
2023 entertainment lineup
2023 Main Stage Entertainment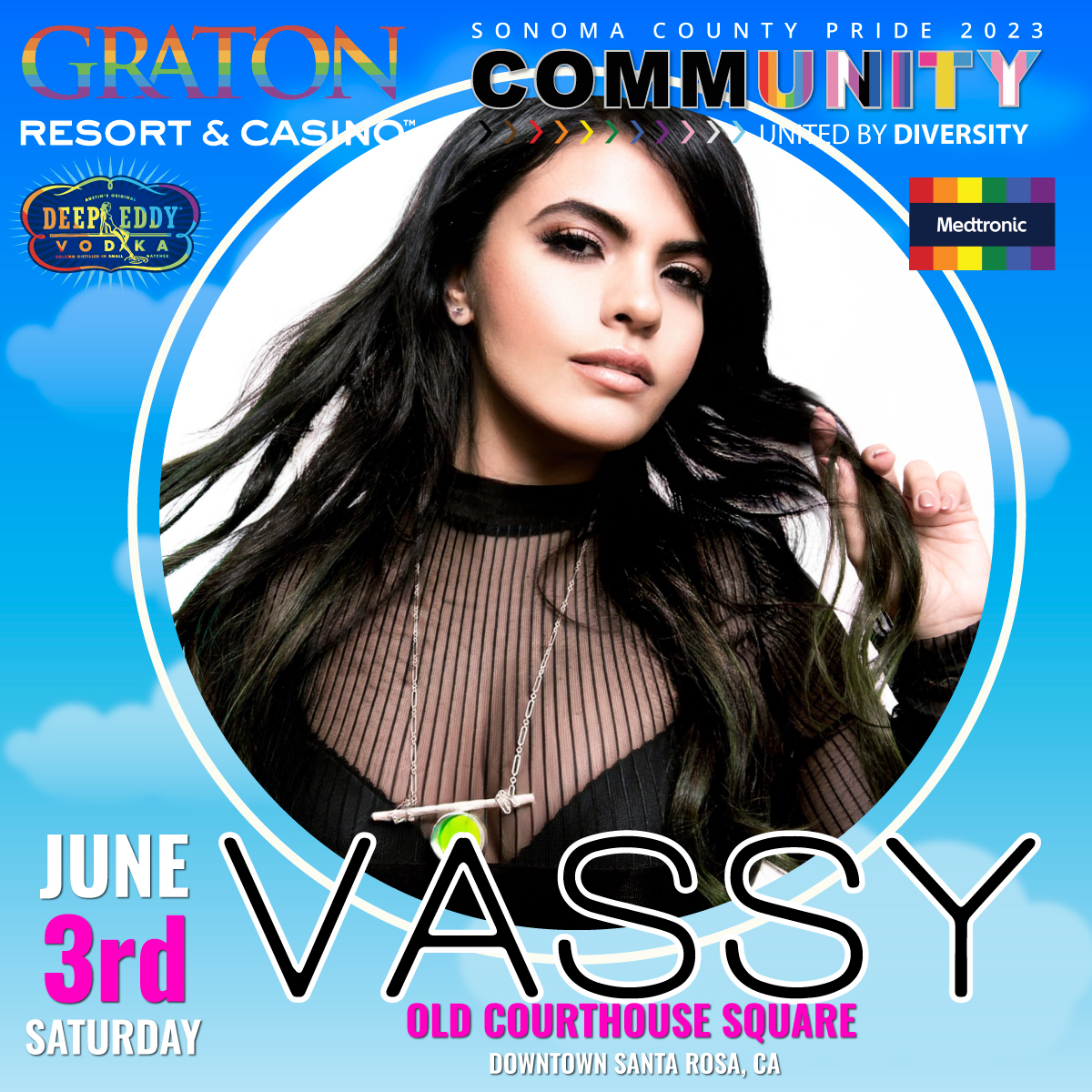 VASSY
Multi-Platinum award-winning artist VASSY is one of dance music's most prominent authentic female artists around the world. The Australian powerhouse's discography includes numerous global chart-topping #1 hits, such as: 'Bad' with music dance icon David Guetta and Dutch duo Showtek which went certified double platinum in 7 countries clocking in over 2 billion streams. Popularly known for her unique voice on the worldwide hit 'Secrets,' with legendary Dj Tiësto and Kshmr, earning her multiple #1 in over 30 countries. She recently hit the 2 Billion Stream Milestone with her Global hit 'Bad' a collaboration with DJs David Guetta and Showtek. The singer-songwriter has topped the US Billboard Dance Charts and Dance Radio an impressive eight times with recent Billboard and Aria #1 singles such as; 'Chase' with Aussie Duo Bonka, 'Lost' with Afrojack, and 'Nothing To Lose' co-produced with Tiësto. VASSY's music has been featured in hit TV Shows such as ABC's 'Grey's Anatomy' and heard in global television campaigns for brands like Hilton, Victoria's Secret, Xbox, Fifa, Nike, Chevy, Pepsi, Target, and her single 'We Are Young' co-produced with Tim Myers was featured in the film trailers for Disney's Academy Award-winning blockbuster 'Frozen', 'Cabin In The Woods' and Tina Fey's'Admission'. With 8 x #1 Billboard Singles and 17 Platinum Certifications VASSY's sound and anthemic lyrics have solidified her as one of dance music's most sought-after vocalists.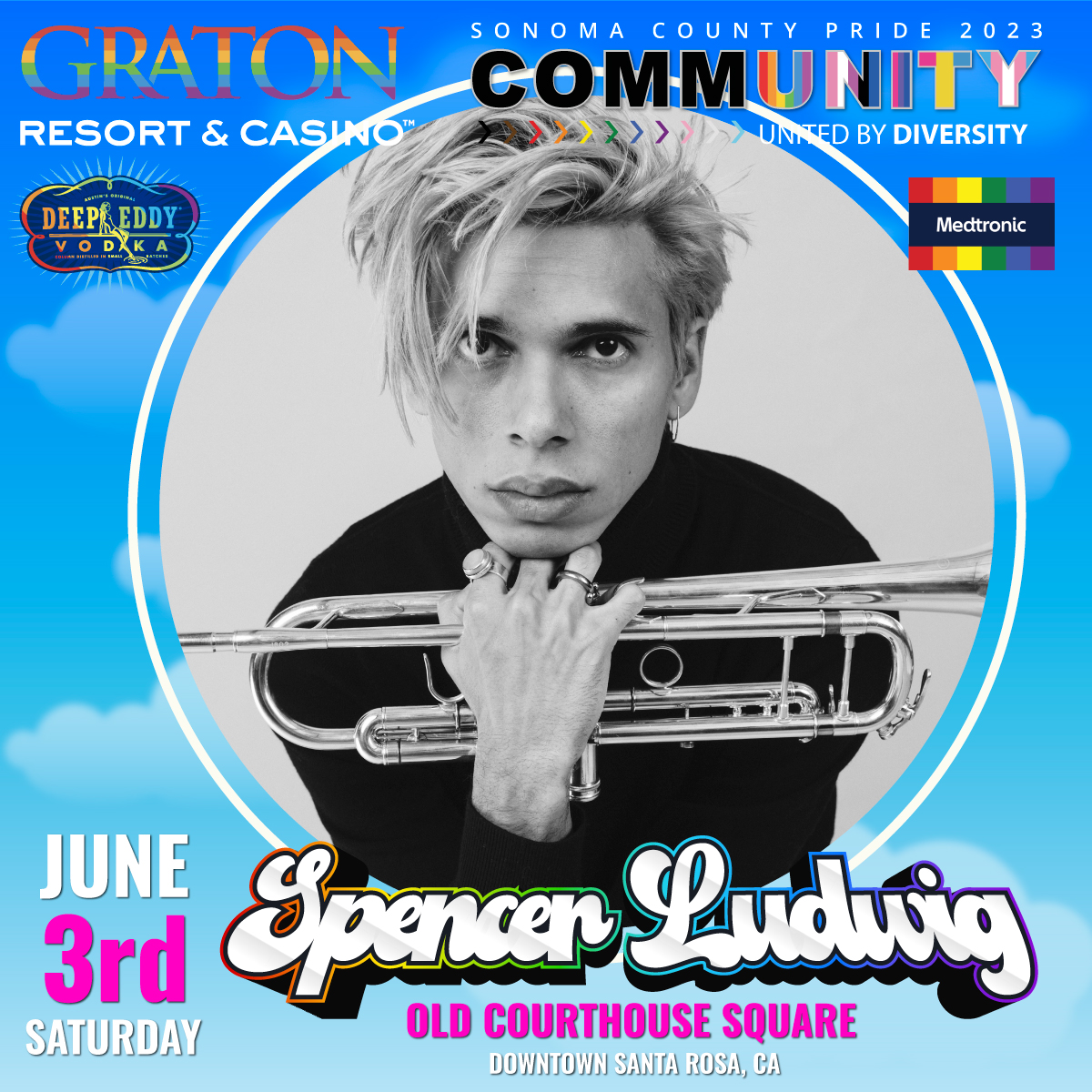 Spencer Ludwig
Since being the original trumpeter in the multi-platinum band Capital Cities (2012 – 2015), the Los Angeles-born, half-Filipino vocalist-instrumentalist, Spencer Ludwig has gone rogue, adding a new dimension of possibility to not only his sonic weapon of choice but also to pop music. In 2016 he was signed as a solo artist to Warner Records released his debut single "Diggy" and launched his career through a global Target campaign. His songs have been featured in ads for Herbal Essences, the feature film Happy Death Day, and the video games Just Dance and Madden. Since becoming an independent artist and forming Trumpet Records in 2018, his songs have earned over ninety film and tv placements, and in 2019 he became one of the faces of Tommy Hilfiger's global denim campaign and earned a Latin Grammy. Ludwig has performed at Lollapalooza, ACL, Hangout Festival, Bonnaroo, Corona Capital, Late Night with Seth Meyers, and has toured the US and Europe with Bebe Rexha, Betty Who, and Fonseca.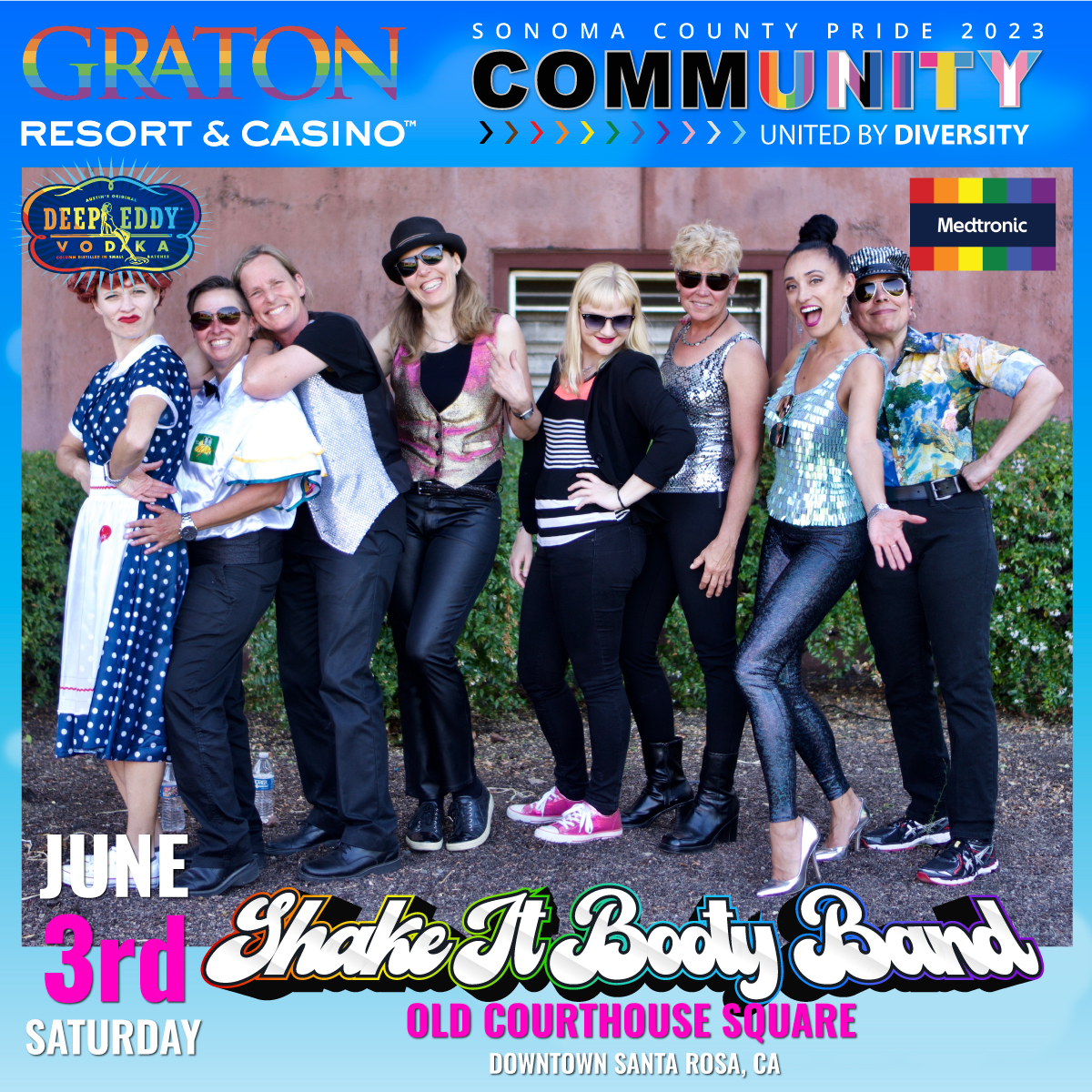 Shake It Booty Band
Shake It Booty Band is a super group of top Bay Area Women Musicians. This band is one of the most entertaining, rollickin', funky, disco-down dirty dance bands to hit the scene in a long time.  If you are looking for a band that can keep the party on the dance floor, a band that your guests will talk about for weeks, you need to look no further.
Band Members
Peggy Dove & Andrea Prichett: Vocals
B.C.Cliver: Guitar & Vocals
Katrine Spang-Hanssen: Drums
Catlin Small: Bass
Deborah Hungerford: Keys
Kasey Knudsen: Sax
Marina Garza: Trumpet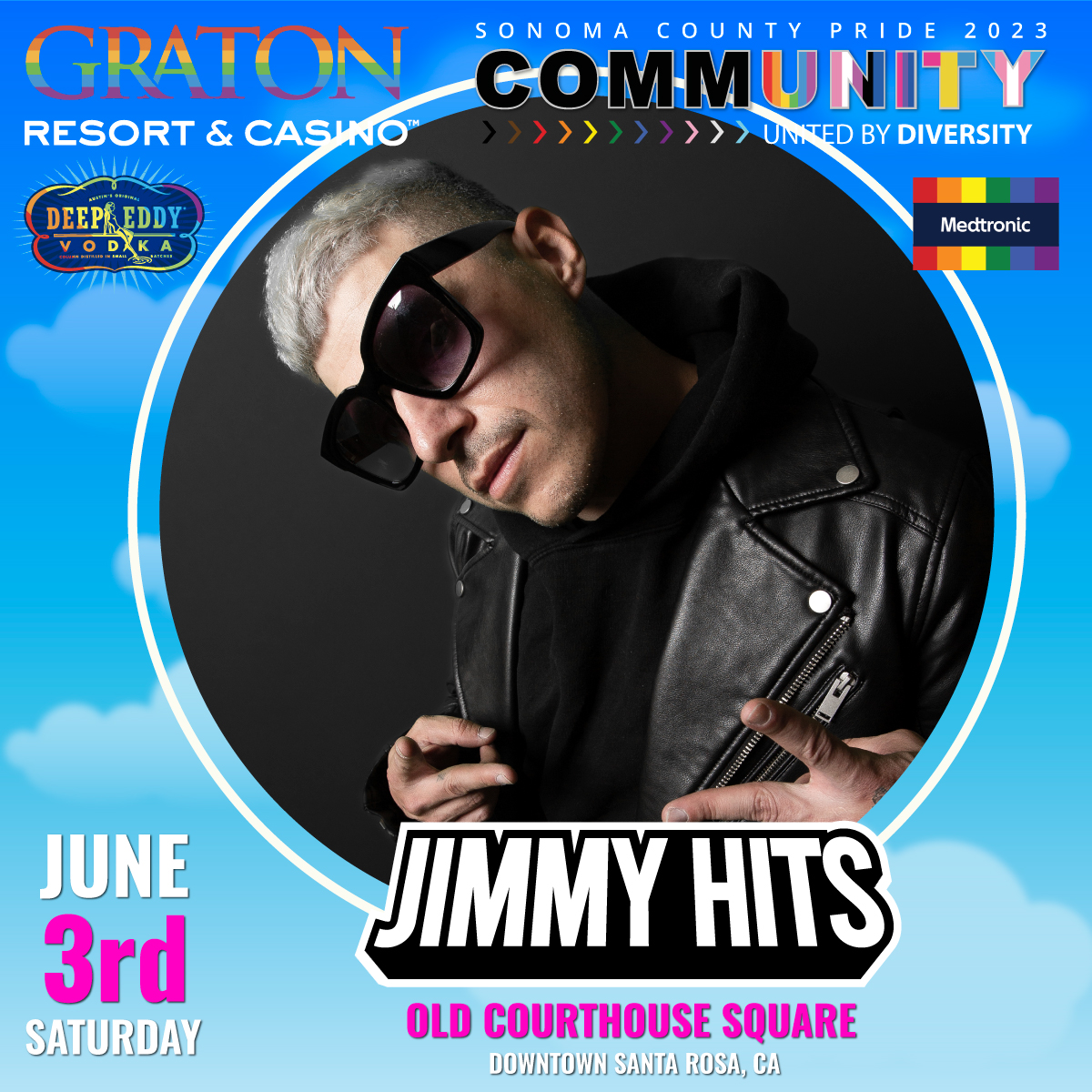 Once upon a time, deep in the heart of the Mexican jungle, there lived a young boy named Jimmy Hits. He was raised by a tribe of vampires who had taken him in when his parents were killed by a jaguar. Despite the fact that he was different from the other members of the tribe, they loved and protected him like one of their own.
As Jimmy Hits grew older, he became fascinated by the sounds and rhythms that surrounded him in the jungle. He would often spend hours listening to the songs of the birds and the drums of the tribe, and began experimenting with creating his own music using the natural instruments around him.
Despite his love for music, Jimmy Hits knew that he could never truly fit in with the vampires. So, on the night of his 18th birthday, he made the brave decision to leave the jungle and seek out a new life.
He traveled to the city, where he found work as a DJ at a local club. His unique style, which blended traditional jungle rhythms with modern electronic beats, quickly made him a popular figure in the underground music scene.
As his fame grew, Jimmy Hits decided to take the next step in his career and began producing his own music. He released his first song under the pseudonym "I Feel It", paying homage to the tribe that had raised him and the sounds that had influenced him.
The song was a huge success and soon Jimmy Hits was touring, performing to sold-out crowds and receiving critical acclaim. He had finally found a place where he truly belonged.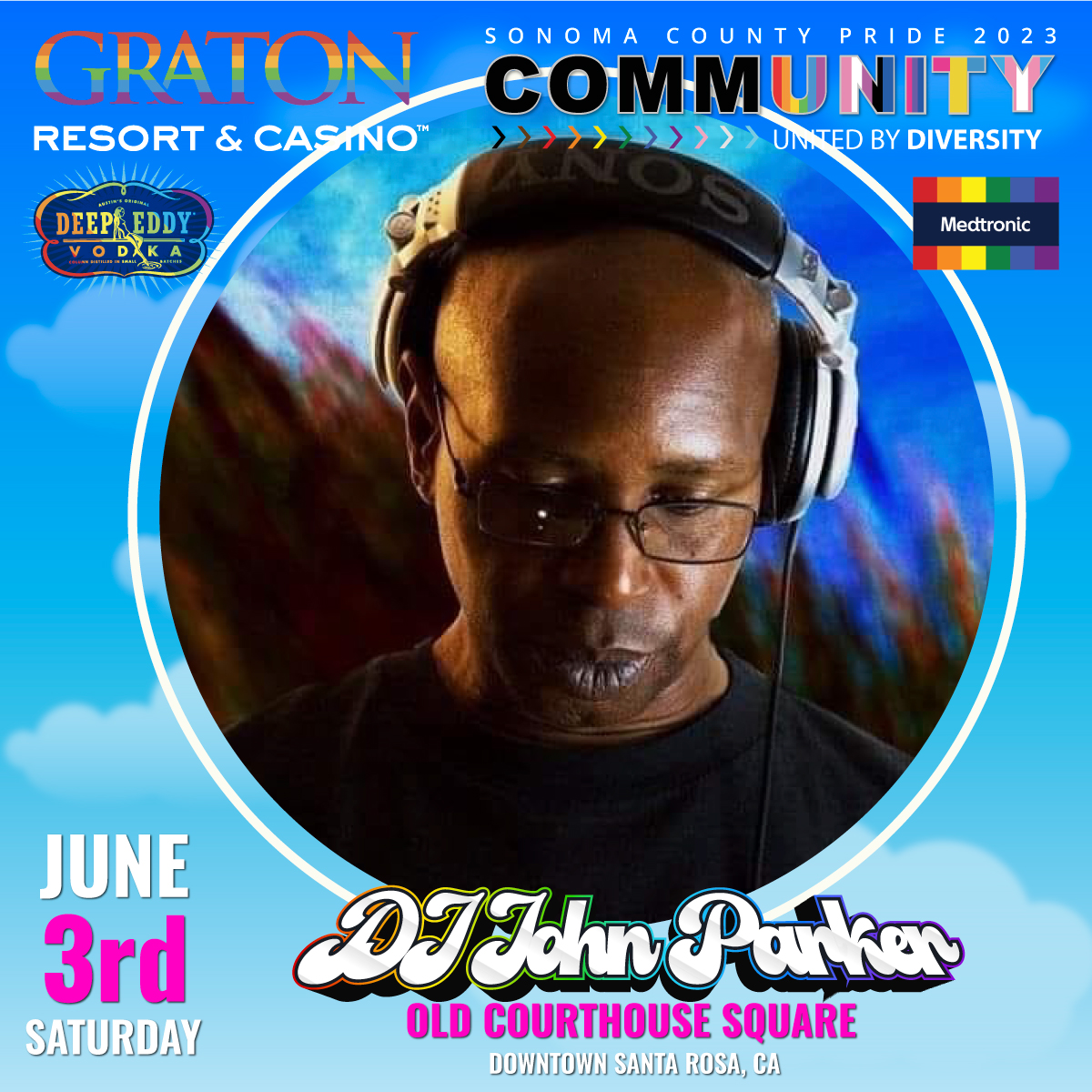 DJ John Parker Bio
John Parker was born in San Francisco in July 1959. His father was a musician and professional drummer who played jazz, blues and R&B. John acquired his love of music at an early age and cites his father as his biggest influence, and adds that his father's wide array of music genres and sound technical skills like keeping the beat "On The One" is what drove John to get into Djing. John started out in 1979 playing his favorite genre funk music as well as 80's rock, r&b/ top 40 and new wave on through the mid 90's the party circuit and school dances before graduating to local clubs. It was around 2010 after going to The End Up (San Francisco) on a Sunday afternoon where he discovered house music and the soulful house stylings of David Harness and Ruben Mancias and never looked back.
Over the last 20 years John has Dj'd at many venues including the legendary and now defunct Santa Rosa Inn and The Black Cat Bar in Penngrove Ca. As well as R3 Hotel, The Historic River Theatre in Guerneville. He's also performed at several festivals including San Francisco Pride and Russian River Pride in Guerneville Ca. He is currently doing a residency at the Rainbow Cattle Company in Guerneville where you can find him every Saturday night spinning house music.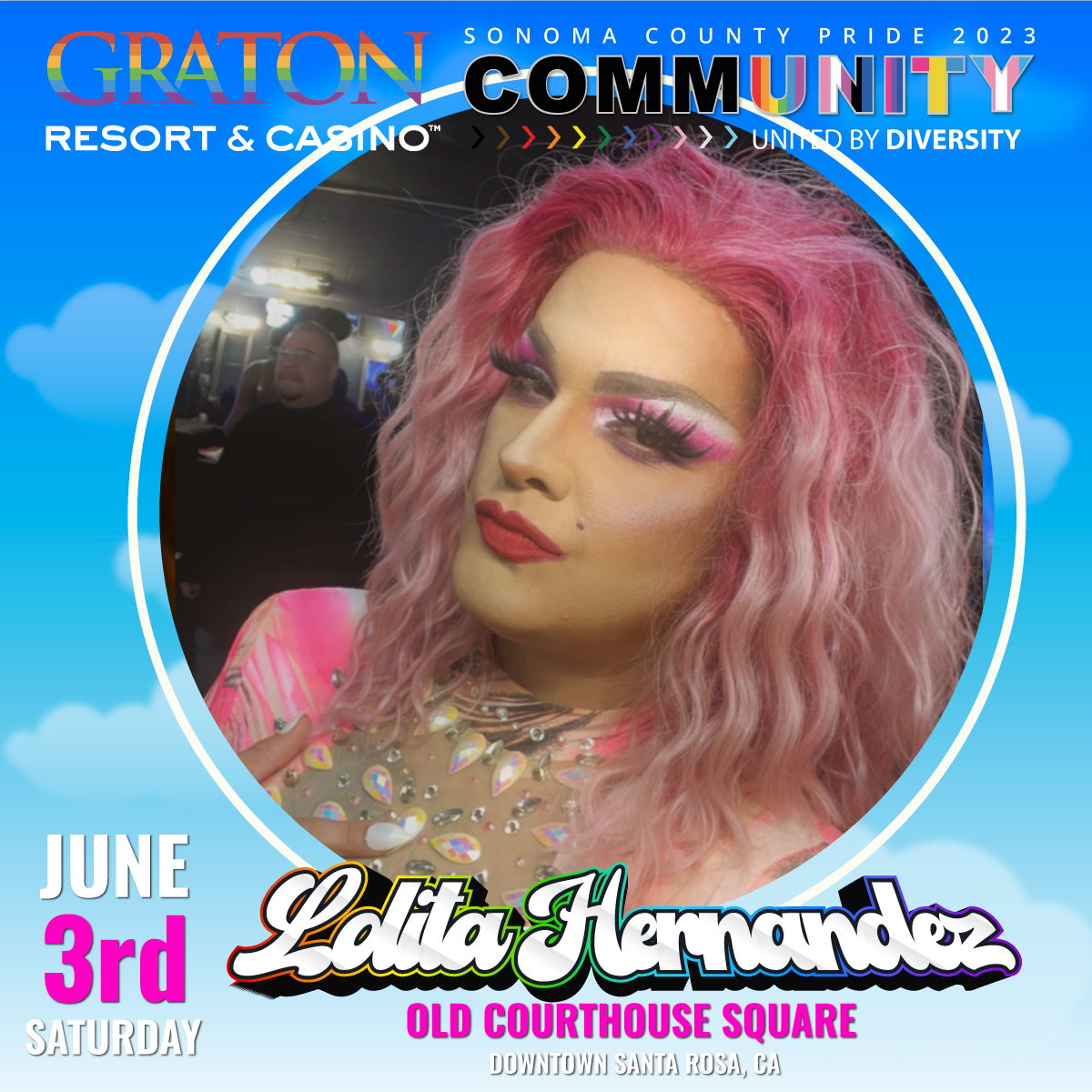 Lolita Hernandez
Lolita Hernandez is a recent transplant of Santa Rosa, Ca. where she is now living in Tempe, AZ. Lolita made her way through the scene with the help of E&F Productions, Love Beat Productions, and now is Sonoma County Pride's resident Drag Queen even if she is living far away! Lolita brings high energy, physical embodiment, and fun every time she performs! You definitely will be having a fun time while watching her. If not you can always count on her daughter Billie Jean Queen to replace the fun for her. Now living in AZ she is a part of a talented group of performers/drag family called the Grandes. Her sister Espresso Grande brought her into the scene in Arizona and now Lolita is making her way into the scene slowly, but so far the scene is growing and she has to fight to be seen. Which is easier said than done!
Lolita always misses home but when the opportunity arises to perform for Sonoma County Pride she will take it since Santa Rosa has been home for many years, with many opportunities, and fun! She looks forward to showing you how Arizona has been treating her since she moved!"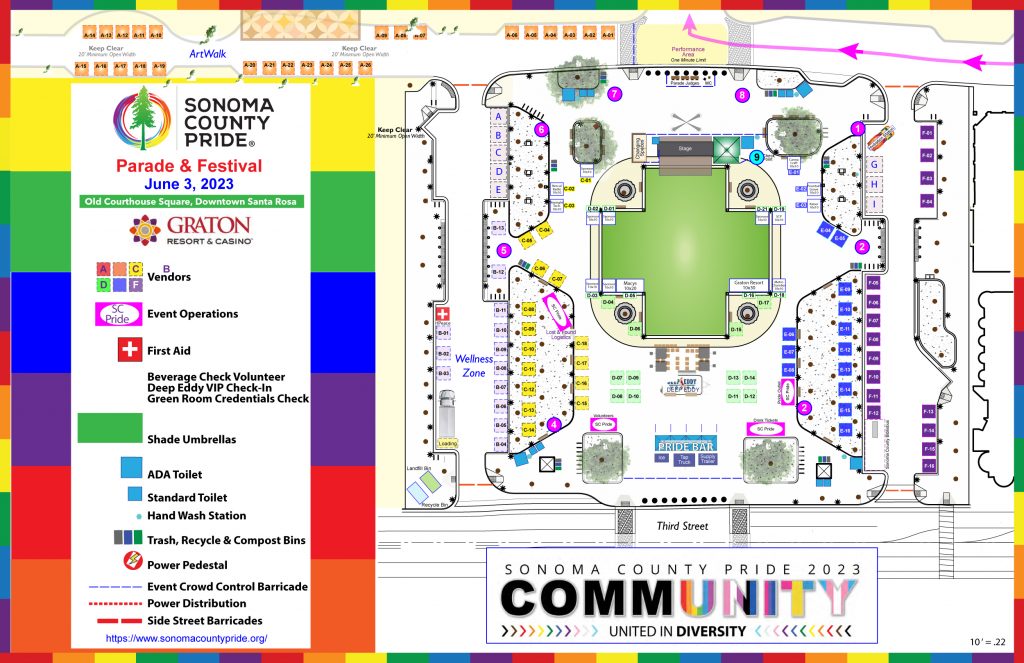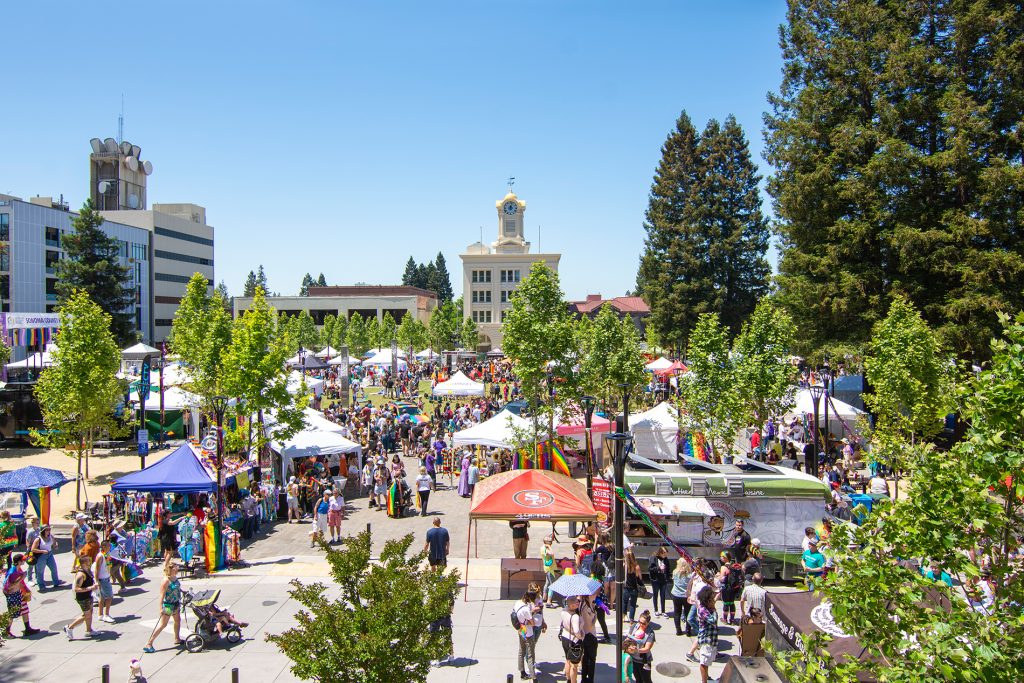 venders & exhibitors
as of May 30, 2023
Antojitos Vegan Tacos
Bubbles Boba & Gifts
Community Market
Corn Dogs – Gianni
Snow Cones etc – Gianni
J.E.S. LLC (Just.Eat.Some)
Margarita's Mexican Food
Mariapilar Ice Creamery
Mommy's Yummy's
Rose's Burgers & Brats, LLC
Sift Dessert Bar
365
Al Neun | Non-Newtonian Gender Fluid
Alzheimer's Association
American Foundation for Suicide Prevention
Amor Para Todos
Barely Lit Co
Born Human Apparel
BRASH
California LGBT Tobacco Education Partnership
CAPS – Community Action Partnership Sonoma County
Catholic Charities
Center for Spiritual Living
Chamber – Small Business Equity & Recovery
Chop's Teen club
Christ Church United Methodist
Clementine the amazing face painting
Community First CU
Compassion Without Borders
Congregation Ner Shalom
Congregation Shomrei Torah
County of Sonoma
Disguise the Limit
Dyed and gone to cali
Exchange Bank
Face to Face
First-Aid HPEACE
Food For Thought
Fountaingrove Lodge
Gazette
Generational Housing
Golden Gate Flyers
Graton Resort & Casino
Interim Healthcare
Island goddess
Kaiser Permanente
Ken Weaver Studio
Keysight Technologies
Knox Presbyterian/Thanksgiving Lutheran Church
LandPaths
Law Enforcement Review and Outreach IOLERO
LEAD
Lesbian Archives
LGBTQ Connection
Life On Earth Art
Little Miss Gypsy
Loud & Queer Zine
Lush Looks by Laura
Mac's Topicals
Macy's Santa Rosa
Mona's Sunshine Shop
Montgomery Village
MorninGloria's
MoSU
NAACP
Nik Kurtz Body Curiosity
Norcal Radio
North Bay LGBTQI Families
North Bay Organizing Project NBOP
Optum Serve
Petaluma Pride
Petaluma River Park Foundation
Pink Spots
Pop the Trunk
Positive Images
Press Democrat
QAA Queer Asylum Accompaniment
Raise A Child
Recology
Recover Your Thoughts
Rohnert Park Department of Public Safety
Ruby Castillo Digital Art
San Francisco VA Health Care System
Santa Rosa Community Health – Sponsor
Santa Rosa Junior College
Santa Rosa Metro Chamber / Visit SR
Santa Rosa Police Department & inRESPONSE
Savvycakes Studios
Simons
Solful
Sonoma Clean Power
Sonoma County Ag + Open Space
Sonoma County Aging + Disability Resource Hub (ADRH)
Sonoma County Commission on Human Rights
Sonoma County Democratic Party
Sonoma County Family – YMCA
Sonoma County Lesbian Reunion (SCLR)
Sonoma County LGBTQI Timeline
Sonoma County Library – Bibli Bus
Sonoma County Office of Education
Sonoma County Status of Women
Sonoma Land Trust
Special K9's Search Team for Missing Persons
Target
The Church of the Incarnation
The Climate Center
Tie Dye Planet
TLC Child & Family Services
TransLife
Tri County Floors & Design
Trumer Pilsner, Berkeley
Unitarian Universalist Congregation Santa Rosa
Van.arte
Verity
VIDAS Legal Services
We Rock Communities
West County Health Centers
Woof Baked Goods
North Bay LGBTQI Timeline
Knowing Our LGBTQI History Illuminates the Path to Our Future
Take a trip down memory lane… and learn more about how the LGBTQI community has evolved in this county. Sonoma County has long been a friendly and welcoming home to LGBTQI people. In the 1970s, lesbian and gay culture flourished here. The Gay Liberation and Lesbian Feminist movements created grassroots organizations and leaders, businesses and social groups dedicated to coming out and establishing ourselves in public spaces. LGBTQI people moved to Sonoma County from other less welcoming areas to enjoy the freedom created here.
Did you know?
In the 1960's there was a gay and lesbian bar in Guerneville.
In the mid 1970s there was a lesbian trucking team (that would be 18 wheeler!)
that operated as part of Red Clover Workers Brigade out of Santa Rosa.
By the late 1970's Gay men from everywhere came to the Russian River to play
and to live.
The devastating AIDS epidemic changed the way we think about and experience
community, forever. We learned to care for each other in ways that have made
us stronger and more connected.
The International Intersex Movement started right here in Sonoma County.
This first year, The North Bay LGBTQI Timeline highlights the transformative years of 1970 to 1990. This collection of images and descriptive narratives will amplify your experience of PRIDE!
DO YOU HAVE PICTURES OR STORIES YOU WOULD LIKE TO SHARE?  LET US KNOW! EMAIL US!
Sonoma County Pride Artwalk
Don't miss the Sonoma County Pride Artwalk. In its second year, the expanded artwork features unique and creative products created by mostly local artists and craftspeople. Whether browsing or shopping you're sure to find something unique and fabulous.
travel information
We've tried to make planing your visit to Sonoma County Pride easy. Here is some local hotel, travel details you might find helpful.
Frequently Asked Questions
The Sonoma County Pride planning committee is working hard to finalize details for this year's Pride events. Once we have finalized the details we will publish FAQs and answers in this location. Thank you for your patience.
Are Dogs Allowed? – dogs are allowed so long as they are on a leash and well behaved. Owners are responsible for cleaning up after them. Please take into consideration that we expect a very large crowd and there will be music and controlled chaos.. Some animals might be stressed.