2022 festival information
JOIN US – JUNE 4, 2022
NOON to 5 PM
This year's 36th annual Sonoma County Pride Celebration spans three days of events and activities designed to appeal to a large diversity of tastes as well as to invite our neighbors from the entire bay area to join the weekend fun. Our festival will be returning to the fabulous downtown Santa Rosa on Courthouse Square.
Our 2022 theme, We Are Family is all about coming back together in a spirit of oneness and belonging and celebrating our connectedness as a community.  The last two years have been a challenge for us all, but we survived.  Now we move forward, each of us unique, we struggle, we rise, but in the end, we are here for one another as family.
Together as chosen family we will persevere, heal, and lift up one another. Sonoma County Pride invites you to showcase what makes you or your group one-of-a-kind and to celebrate what makes our Sonoma County community so special. We encourage you to be as original and colorful as you dare. Decorate, decorate, decorate. The sky is the limit to show We Are Family!
Before our Festival begins, join Sonoma County Pride as we celebrate diversity and queer culture with our parade! Details Click Here!
Sonoma County Pride is the lesbian, gay, bisexual, transgender, and queer (LGBTQ) community celebrating Sonoma County, CA.
2022 entertainment lineup

Host and Performances by RuPaul Drag Race star Miss Rock M Sakura
Rock M. Sakura is the stage name of Bryan Steven Johnson Bradford, a San Francisco drag performer and one of the Season 12 contestants of RuPaul's Drag Race. Her drag name comes from her love of anime and all things campy and kitschy. It is also a reference to Rock 'Em Sock 'Em Robots.

Spencer Day
Spencer Day is a #1 Billboard jazz/pop singer and songwriter has played venues as diverse as Lincoln Center, the Hollywood Bowl and London's West End. Spencer is a widely acclaimed songwriter creating witty and sophisticated pop songs in the tradition of classic jazz American writers. The Washington Post praised his "cool jazz sensibilities" and "cleverly crafted tales." Time Out New York called him "a compelling, quirky singer-songwriter." Day's songwriting is influenced by jazz, musical theater, cabaret, soul, and pop. Day's album Vagabond peaked at #11 on Billboard's Album Chart, staying there 47 weeks. His album, Daybreak, debuted at #1 on the iTunes Jazz Charts. Day's collaboration with the Postmodern Jukebox has surpassed 1.5 million views on YouTube. His upcoming project, Broadway by Day is collection of reimagined theater songs from South Pacific, Evita, A Chorus Line and beyond, with surprising and genre-blurring arrangements. Broadway by Day, featuring Grammy-nominated artists such as Dave Koz and Jane Monheit, is scheduled to be released the fall of 2020. His album Angel City, which Day arranged and co-produced, was recorded at Capitol Records with the Budman-Levy Orchestra. The album's single, "72 and Sunny," marked his debut on the Mediabase Adult Contemporary chart. His electronica remix of the song was recently featured on Kygo's "Palm Tree Summer" playlist. Day has volunteered regularly with Feeding America as well as Border Angels, a charity working to improve migrant rights, immigration reform, legal counsel and the prevention of immigrant deaths along the border. Border Angels inspired his next project La Frontera, which will feature original instrumental compositions recorded with musicians in the United States and Mexico.

Ellie James
Stylistically unique and captivating, Ellie James mixes the darker, dreamier side of her California roots with the edge and dynamics of her Boston background. A recent graduate from the Berklee College of Music, she has recorded in studios in Boston and Los Angeles, and has performed at various venues across the country.

DJ Ron Reeser
Ultra Music Recording artist RON REESER is quickly becoming a household name. With a remix discography that lists artists such as Adele, Ellie Goulding, Gotye, Kaskade, Deadmau5, Krewella, Chromeo, Maroon 5, Jes, Nadia Ali, Lights and more, RON REESER continues to cement his name in the dance industry and international market as a producer to watch in 2015.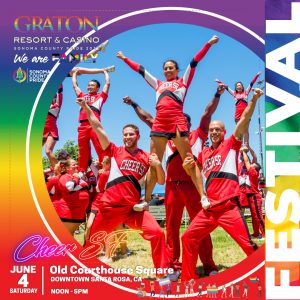 CHEER San Francisco
CHEER SF is an adult, all-volunteer 501(c)(3) charitable organization supporting beneficiaries that assist those living with HIV/AIDS, breast cancer, and other life-challenging conditions.
They inspire, entertain, and amaze audiences through powerful performances while challenging others to be their best and supporting organizations that strengthen our communities.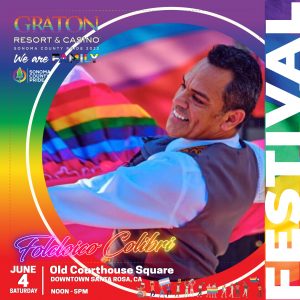 Ensamble Folclórico Colibrí
IDENTITY, EDUCATION, TRADITION Ensamble Folclórico Colibrí (EFC) Is a Mexican folklore dance group. Under the artistic directorship of Arturo Magaña, EFC has the mission to promote the pride of identifying as an LGBTQ+ Latinx through the art of Mexican Folklórico dance. Their mission also seeks to preserve our costumes and traditions through cultural and educational projects, lectures as well as staged performances.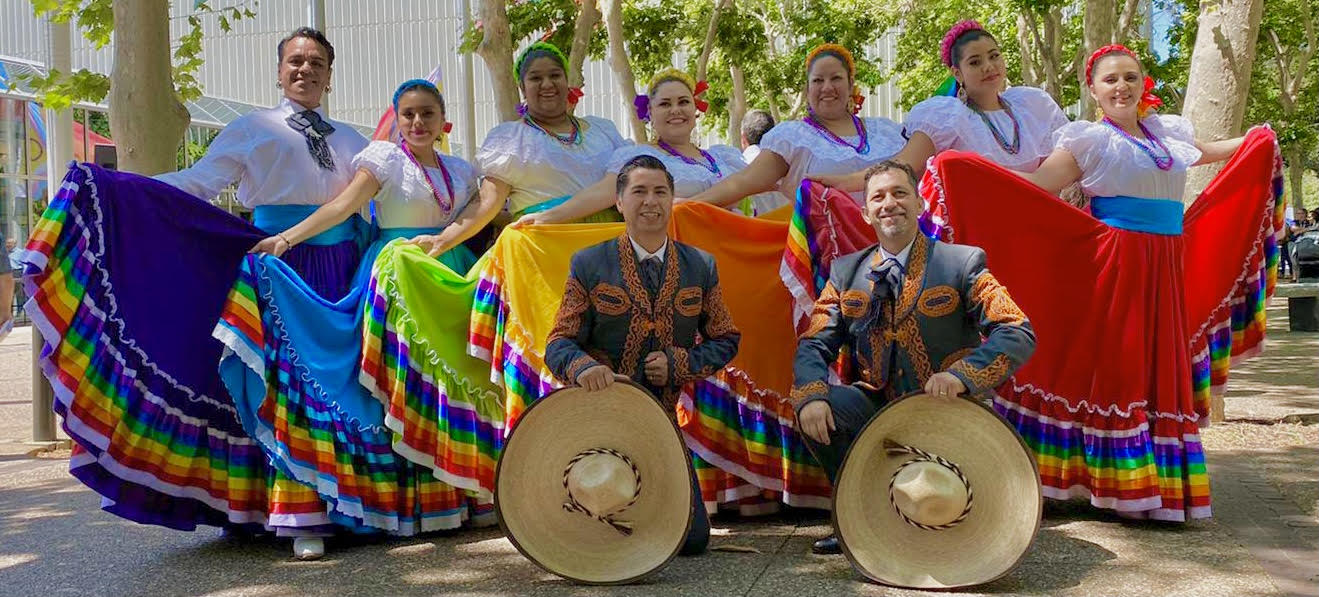 DJ Jen DM
Jen
DM
 is an event producer, 
DJ
 + musician based in LA + West Sonoma County. She's co-producing 
Magiq Hour
, she's co-produced past events for 
Lez Croix
 and 
Outfest
, and was the long-time resident 
DJ
 for 
Cruise LA
 and the 
Downtown Women's Center
. Her band, 
Hi Fashion
,  toured internationally for a decade and has been featured in films like G.B.F. and tv shows including RuPaul's Drag Race.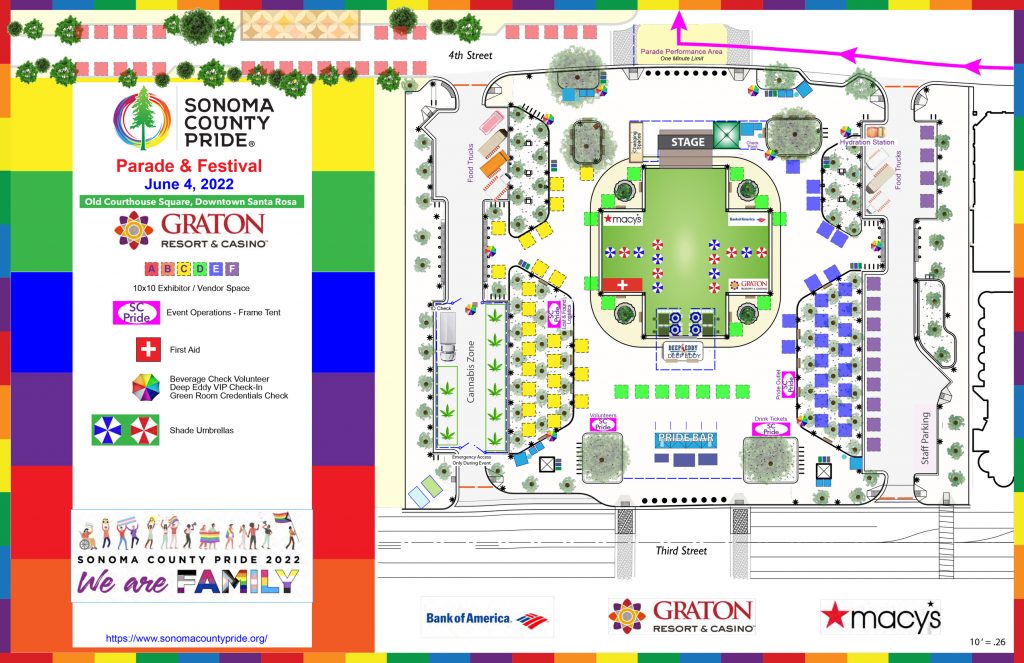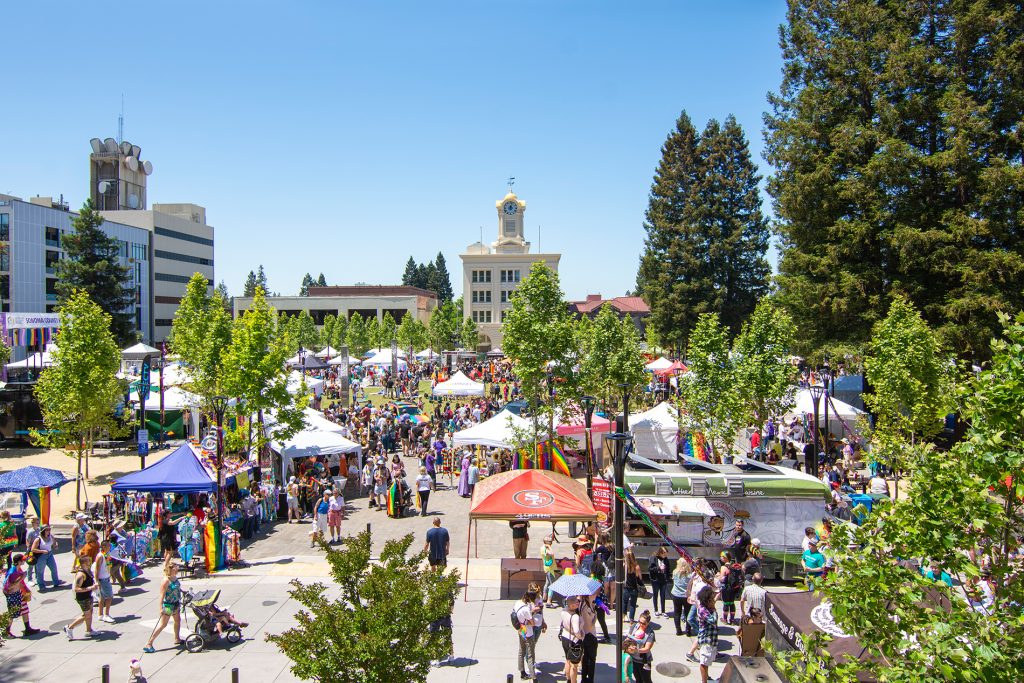 venders & exhibitors
as of April 20, 2022
North Bay LGBTQI Timeline
Knowing Our LGBTQI History Illuminates the Path to Our Future
Take a trip down memory lane… and learn more about how the LGBTQI community has evolved in this county. Sonoma County has long been a friendly and welcoming home to LGBTQI people. In the 1970s, lesbian and gay culture flourished here. The Gay Liberation and Lesbian Feminist movements created grassroots organizations and leaders, businesses and social groups dedicated to coming out and establishing ourselves in public spaces. LGBTQI people moved to Sonoma County from other less welcoming areas to enjoy the freedom created here.
Did you know?
In the 1960's there was a gay and lesbian bar in Guerneville.
In the mid 1970s there was a lesbian trucking team (that would be 18 wheeler!)
that operated as part of Red Clover Workers Brigade out of Santa Rosa.
By the late 1970's Gay men from everywhere came to the Russian River to play
and to live.
The devastating AIDS epidemic changed the way we think about and experience
community, forever. We learned to care for each other in ways that have made
us stronger and more connected.
The International Intersex Movement started right here in Sonoma County.
This first year, The North Bay LGBTQI Timeline highlights the transformative years of 1970 to 1990. This collection of images and descriptive narratives will amplify your experience of PRIDE!
DO YOU HAVE PICTURES OR STORIES YOU WOULD LIKE TO SHARE?  LET US KNOW! EMAIL US!
travel information
We've tried to make planing your visit to Sonoma County Pride easy. Here is some local hotel, travel details you might find helpful.
Frequently Asked Questions
The Sonoma County Pride planning committee is working hard to finalize details for this year's Pride events. Once we have finalized the details we will publish FAQs and answers in this location. Thank you for your patience.
Are Dogs Allowed? – dogs are allowed so long as they are on a leash and well behaved. Owners are responsible for cleaning up after them. Please take into consideration that we expect a very large crowd and there will be music and controlled chaos.. Some animals might be stressed.