2022 festival information
JOIN US – JUNE 4, 2022
NOON to 5 PM
This year's 36th annual Sonoma County Pride Celebration spans three days of events and activities designed to appeal to a large diversity of tastes as well as to invite our neighbors from the entire bay area to join the weekend fun. Our festival will be returning to the fabulous downtown Santa Rosa on Courthouse Square.
Our 2022 theme, We Are Family is all about coming back together in a spirit of oneness and belonging and celebrating our connectedness as a community.  The last two years have been a challenge for us all, but we survived.  Now we move forward, each of us unique, we struggle, we rise, but in the end, we are here for one another as family.
Together as chosen family we will persevere, heal, and lift up one another. Sonoma County Pride invites you to showcase what makes you or your group one-of-a-kind and to celebrate what makes our Sonoma County community so special. We encourage you to be as original and colorful as you dare. Decorate, decorate, decorate. The sky is the limit to show We Are Family!
Before our Festival begins, join Sonoma County Pride as we celebrate diversity and queer culture with our parade! Details Click Here!
Sonoma County Pride is the lesbian, gay, bisexual, transgender, and queer (LGBTQ) community celebrating Sonoma County, CA.
2022 entertainment lineup
Main Stage Entertainment
More information coming soon!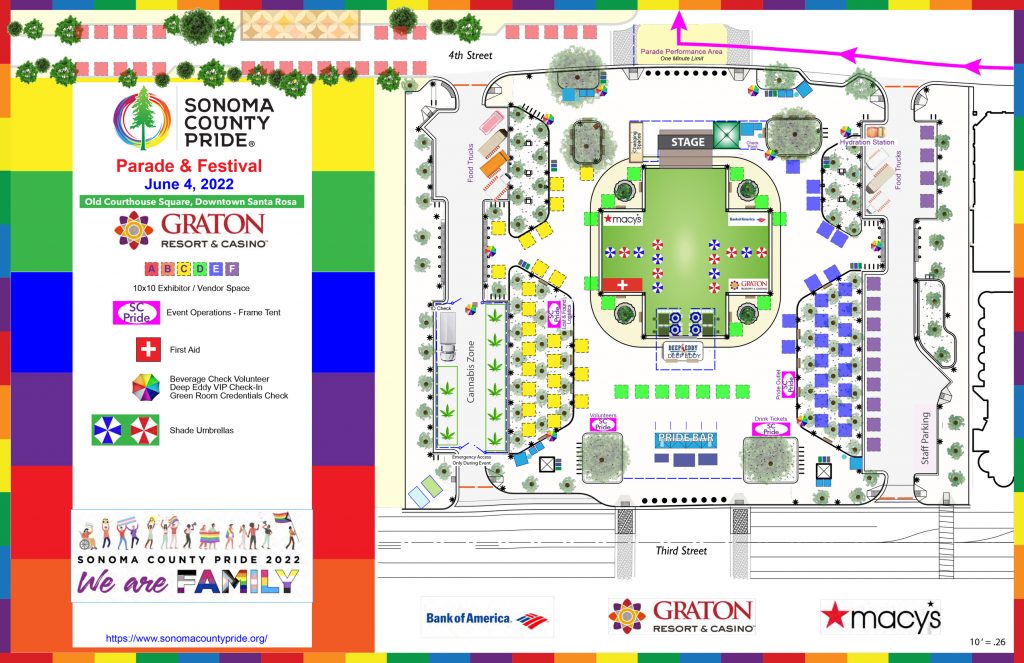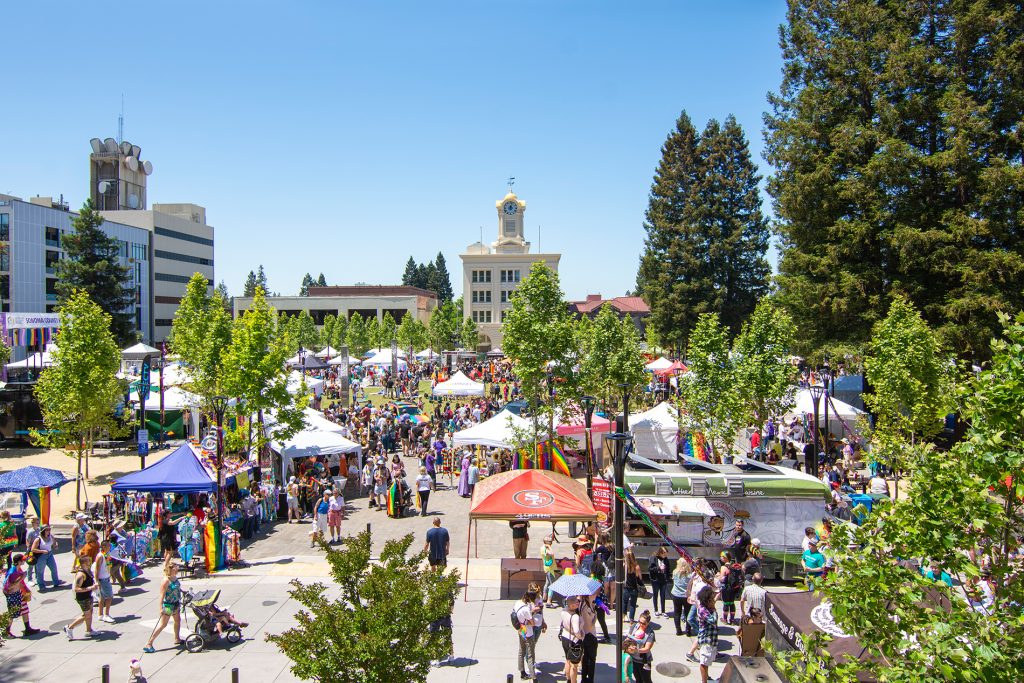 venders & exhibitors
as of April 20, 2022
North Bay LGBTQI Timeline
Knowing Our LGBTQI History Illuminates the Path to Our Future
Take a trip down memory lane… and learn more about how the LGBTQI community has evolved in this county. Sonoma County has long been a friendly and welcoming home to LGBTQI people. In the 1970s, lesbian and gay culture flourished here. The Gay Liberation and Lesbian Feminist movements created grassroots organizations and leaders, businesses and social groups dedicated to coming out and establishing ourselves in public spaces. LGBTQI people moved to Sonoma County from other less welcoming areas to enjoy the freedom created here.
Did you know?
In the 1960's there was a gay and lesbian bar in Guerneville.
In the mid 1970s there was a lesbian trucking team (that would be 18 wheeler!)
that operated as part of Red Clover Workers Brigade out of Santa Rosa.
By the late 1970's Gay men from everywhere came to the Russian River to play
and to live.
The devastating AIDS epidemic changed the way we think about and experience
community, forever. We learned to care for each other in ways that have made
us stronger and more connected.
The International Intersex Movement started right here in Sonoma County.
This first year, The North Bay LGBTQI Timeline highlights the transformative years of 1970 to 1990. This collection of images and descriptive narratives will amplify your experience of PRIDE!
DO YOU HAVE PICTURES OR STORIES YOU WOULD LIKE TO SHARE?  LET US KNOW! EMAIL US!
travel information
We've tried to make planing your visit to Sonoma County Pride easy. Here is some local hotel, travel details you might find helpful.
Frequently Asked Questions
The Sonoma County Pride planning committee is working hard to finalize details for this year's Pride events. Once we have finalized the details we will publish FAQs and answers in this location. Thank you for your patience.
Are Dogs Allowed? – dogs are allowed so long as they are on a leash and well behaved. Owners are responsible for cleaning up after them. Please take into consideration that we expect a very large crowd and there will be music and controlled chaos.. Some animals might be stressed.