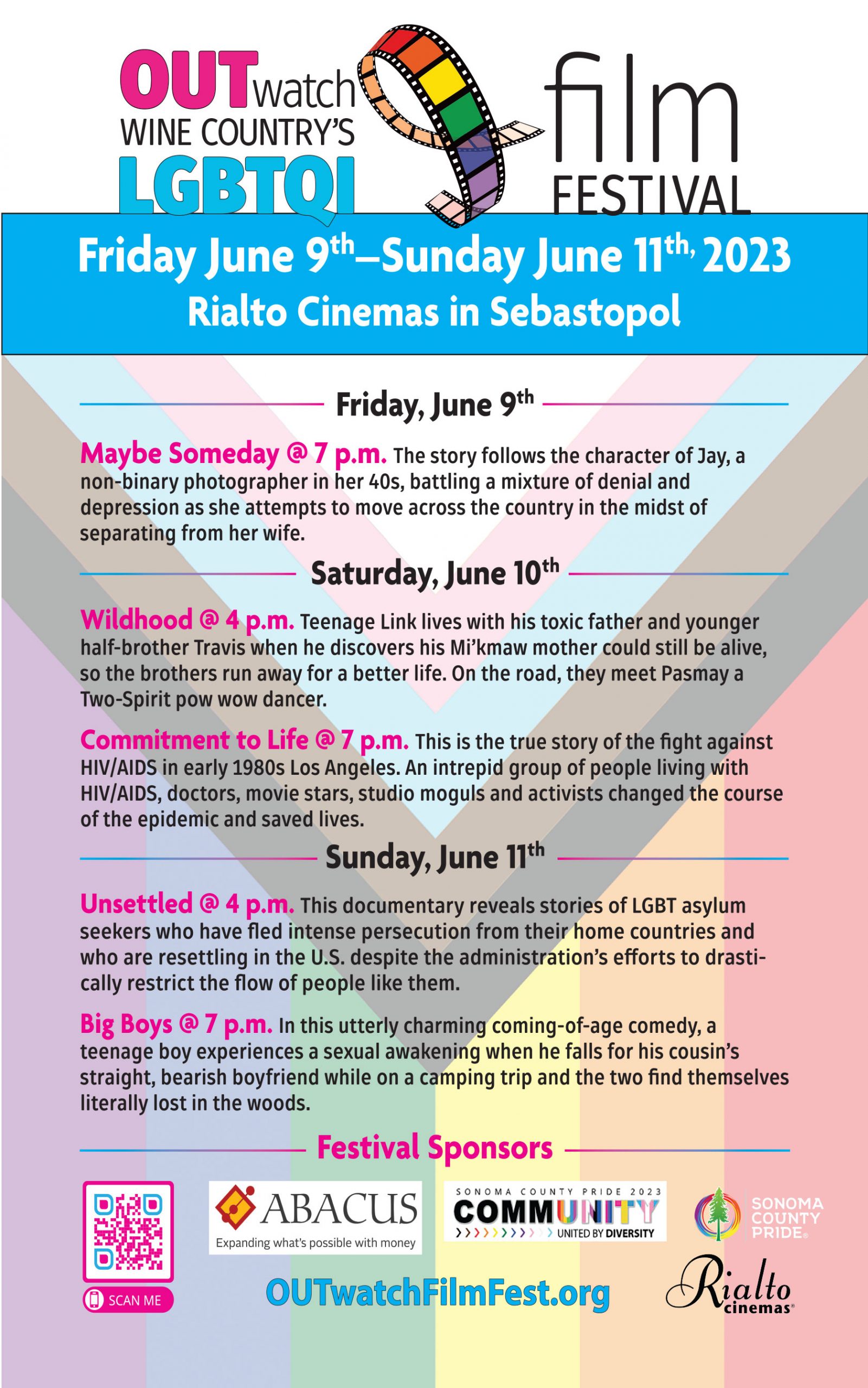 Maybe Someday
Director: Michelle Ehlen
United States, 2022, 91 minutes
Friday, June 9, 7:00 PM
"Stunning and honest storytelling about some of the hardest aspects of love." – Midwest Film Journal Jay, a non-binary 40-something photographer, attempts to move across the country in the midst of separating from her wife. Along the way, she takes a detour to stay with her high school best friend who she used to be secretly in love with, and befriends a lonely gay comedian who adds humor and levity to her life. Memories of the past resurface as Jay searches for the joy and courage she needs to move forward with her next chapter in life. A new LGBTQ feature film from award-winning writer/director Michelle Ehlen (Butch Jamie, Heterosexual Jill, S&M Sally) Starring: Michelle Ehlen, Charlie Steers, Shaela Cook, Jeneen Robinson, Eliza Blair, Cameron Norman Featuring the song "Home" by Corday
Wildhood
Director: Bretten Hannam
United States, 2021, 107 minutes
Saturday, June 10, 4:00 PM
A rebellious two-spirit teenager runs away from home to find his birth mother and reclaim his Mi'kmaw heritage.
In a rural east-coast trailer park, Link (Philip Lewitski) lives with his toxic father and younger half-brother Travis (Avery Winters-Anthony). When Link discovers his Mi'kmaw mother could still be alive, it lights a flame and they make a run for a better life. On the road, they meet Pasmay (Canadian Screen Award Winner, Joshua Odjick), a pow-wow dancer drawn to Link. As the boys journey across Mi'kma'ki, Link finds community, identity, and love in the land where he belongs.
Commitment To Life
Director: Jeffrey Schwarz
United States, 2023, 115 minutes
Saturday, June 10, 7:00 PM
Against a rich Hollywood backdrop, Commitment to Life documents the true story of the fight against HIV/AIDS in Los Angeles — and how an intrepid group of people living with HIV/AIDS, doctors, movie stars, studio moguls and activists changed the course of the epidemic.
Unsettled: Seeking Refuge in America
Director: Tom Shepard
United States, 2019, 84 minutes
Sunday, June 10, 4:00 PM
UNSETTLED is a feature-length documentary revealing the untold stories of LGBT refugees and asylum seekers who have fled intense persecution from their home countries and who are resettling in the United States. As new leadership in America continues to demonize immigrants and drastically restrict the flow of refugees and asylum seekers into the U.S., UNSETTLED humanizes a group few people know who are desperately trying to create new and safer homes.
Subhi, a gay Syrian refugee, who, having survived multiple death threats from Islamic terrorists, beatings by a homophobic father, and a nation devastated by war, finds his voice as a leader for refugee rights in the U.S. Cheyenne and Mari, a lesbian couple from Angola, who, having faced brutal harassment from family and neighbors, seek uncertain asylum through the American immigration courts while pursuing their dreams of becoming musicians. Junior, a gender non-conforming gay man from the Congo, struggles to find even basic housing and livelihood while exploring a more fluid gender identity.
UNSETTLED takes place largely in the San Francisco Bay Area, historically a beacon for dislocated LGBT people in the U.S. While cultural narratives of a "queer promised land" still persist, the film asks whether Northern California is even practical as a place to resettle LGBT refugees, especially given the enormous gentrification, increased costs of living, and scarcity of housing in recent years—a set of problems present in many American cities. What are the costs persecuted immigrants pay for seeking refuge in America? And how are everyday Americans stepping forward to help those most in need?
Big Boys
Director: Corey Sherman
United States, 2023, 88 minutes
Sunday, June 10, 7:00 PM
In this coming-of-age comedy, a teenage boy experiences a sexual awakening when he falls for his cousin's boyfriend on a family camping trip.