Sonoma County Pride Parade is Proudly Sponsored by:
JOIN US – JUNE 1, 2019 @ 11AM
Join us for our 32nd annual Sonoma County Pride Parade on June 1, 2019, in downtown Santa Rosa on 4th Street. Parade starts at 11AM, followed by our Pride Festival from noon to 6PM. This year's theme is Stonewall to Sonoma, a Heritage of Love. In 1967 thousands of young people from around the country descended on the bay area for the summer of love. Rejecting cultural pressure to conform, they were determined to MAKE change happen and create the world they wanted to live in. On June 28th, 1969 the Stonewall riots (also referred to as Stonewall uprising) happened at the Stonewall Inn in Greenwich Village, New York City. Violent demonstrations by members of the LGBT community took place as they fought back against the police harassment and raid. The LGBT community stood up and said we are not going to take it anymore. These riots constitute the most important event leading to the gay liberation movement and modern fight for LGBTQ rights. The world has never been the same.
Starting with our Pride Festival in June, join Sonoma County LGBTQI Pride as we reimagine that summer for a new generation through a season of events and activities that celebrate diversity and queer culture and inspired by that spirit of freedom and LOVE. Exhibitors are encouraged to use this theme when thinking about their contingency.
Tom Schwedhelm
Mayor of Santa Rosa
Tom Schwedhelm
Mayor of Santa Rosa
---
Gary (Buzz) Hermes
Rhiannon Jones
Miss Sonoma County
Rhiannon Jones
Miss Sonoma County
---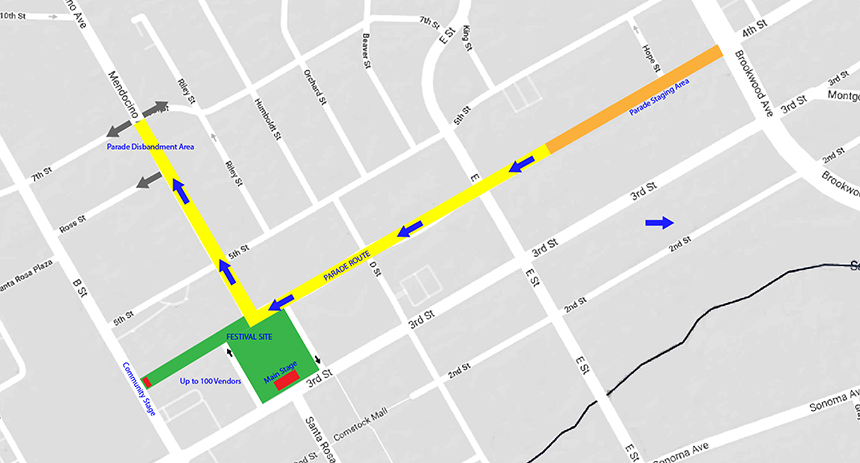 Mike Bernard (Sister Nova Nilla)
---
Judging Criteria and Awards
Judges will be selected from the community by the Parade committee.

Each unit will be judged on its overall presentation and the judges' decision will be final.

Awards will be granted to three places in each judging category.

Performances in the parade are only allowed at the Judges stand (On Fourth Street at E Street) with a limit of one (1) minute. Stopping the parade to perform in other areas of the parade may result in being pulled from the parade lineup without refund.

The awards will be presented on the Festival Stage at 3:00pm, June 1, 2019. If the winner is not present the award will be held by the parade committee and the winner contacted to receive their award.
Judging Categories:
Best Use of Pride Theme:

Love

Most Creative & Original

Best Overall
Awards in each category:
First: tba

Second: tba

Third: tba
travel information
We've tried to make planing your visit to Sonoma County Pride easy. Here is some local hotel, travel details you might find helpful.
The Sonoma County Pride planning committee is working hard to finalize details for this year's Pride events. Once we have finalized the details we will publish FAQs and answers in this location. Thank you for your patience.
What should I wear? – Be festive! Wear lots of color! Don't be afraid to show your pride and wear rainbows and tons of color! Be sure to dress comfortable, and remember it could be warm so be sure to wear sunscreen!
Are Dogs Allowed? – dogs are allowed so long as they are on a leash and well behaved. Owners are responsible for cleaning up after them. Please take into consideration that we expect a very large crowd and there will be music and controlled chaos.. Some animals might be stressed.