Annual Sonoma County Pride Flag Raising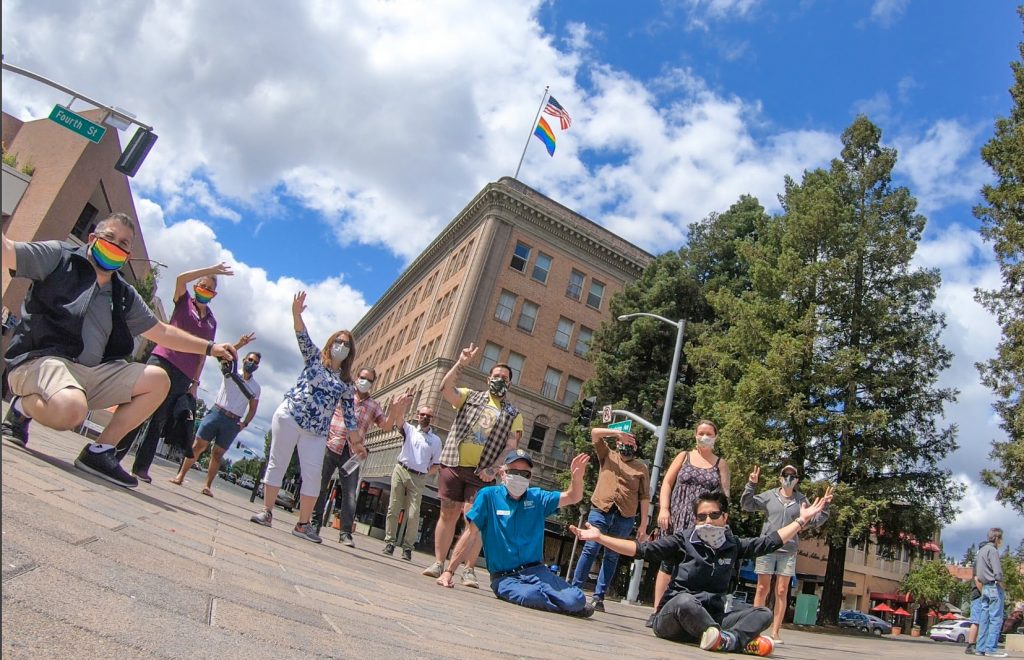 Meet the crew from our 2020 flag raising! From left to right we have Christopher Kren-Mora, Cheryl Kabanuck, René David, Karolina Gage, Brian Rogers, Christian Sullberg, Robbi Ernst III, Osvaldo Jimenez, Alisse Leafy Cottle, Grace Villafuerte & Jessica Borrayo.
Come out (or join us on our live stream) as Sonoma County Pride kicks off Pride Month as we raise the Pride Flag on top of Rosenberg Building at the corner of Mendocino Ave & 4th St.
We will meet on Old Courthouse Square @ 11 am – a select few will be able to join us as we make our way to the top of the Rosenberg Building to kick off Pride month with Sonoma County's largest Pride flag! – We will also be streaming this event live on Facebook.
A little history of the Pride flag: The Pride flag was first introduced in 1978 by a man named Gilbert Baker. He was approached by the San Francisco Pride committee to come up with a new symbol to represent their fight for equal rights. After much deliberation, he decided on a rainbow, for its representation of diversity and of acceptance. Since then, the rainbow flag has become an internationally recognizable symbol for the gay rights movement. It is associated with love, tolerance, and peace.
About the new Intersex Inclusive Progress Pride Flag – The new design builds on Daniel Quasar's instantly iconic 2018 Progress Pride flag, which added a five-striped chevron to the left side of the flag representing LGBTQ+ people of color and the trans community. (Quasar's design, in turn, was an update to the city of Philadelphia's 2017 Pride flag, which added black and brown stripes above the six rainbow stripes.)
Intersex columnist and media personality Valentino Vecchietti designed a new rendition of the rainbow Pride flag in 2021. The flag was officially unveiled by the advocacy group Intersex Equality Rights UK in late May 2021 but has since spread virally on social media.
In Vecchietti's rendition, a purple circle superimposed over a yellow triangle has been added to the chevron on the left half of Quasar's design — an homage to the popular 2013 intersex flag designed by Australian bioethicist and researcher Morgan Carpenter.
Join Sonoma County Pride as we fundraise to update downtown Santa Rosa's rainbow flags to be more inclusive! Sonoma County Pride is looking for community support to update the county's largest rainbow flag that we raise every year on top of the Rosenberg Building in downtown Santa Rosa to officially kick off pride month for Sonoma County.
Since 2018 we've been raising a 10ft by 6th 6 strips classic LGBT Pride flag. This year we ask for your help for us to update this flag as well as all the street flags in downtown Santa Rosa.
The new design is not widely made at the moment and Sonoma County Pride would like your help to commission a flag manufacturer (based in San Diego California & which is LGBT owned) to make a 10ft by 6th marine nylon and hand-sewn. Hence why we need your help, the new flag is going to cost approximately $800.00 – We thank you in advance for your support!
NOTE
: at the time we started this GoFundMe we were also going to ask for your help to also update all the street pole banners in downtown Santa Rosa. However, our friends and annual sponsor 
FastSigns of Sonoma County
 has committed to updating all the pole flags as part of their 2023 Sponsorship! 
THANK YOU FASTSIGNS!
 – Please remember them when you need your banners and decorations for your parade float!!