Ride to Pride! Petaluma to Santa Rosa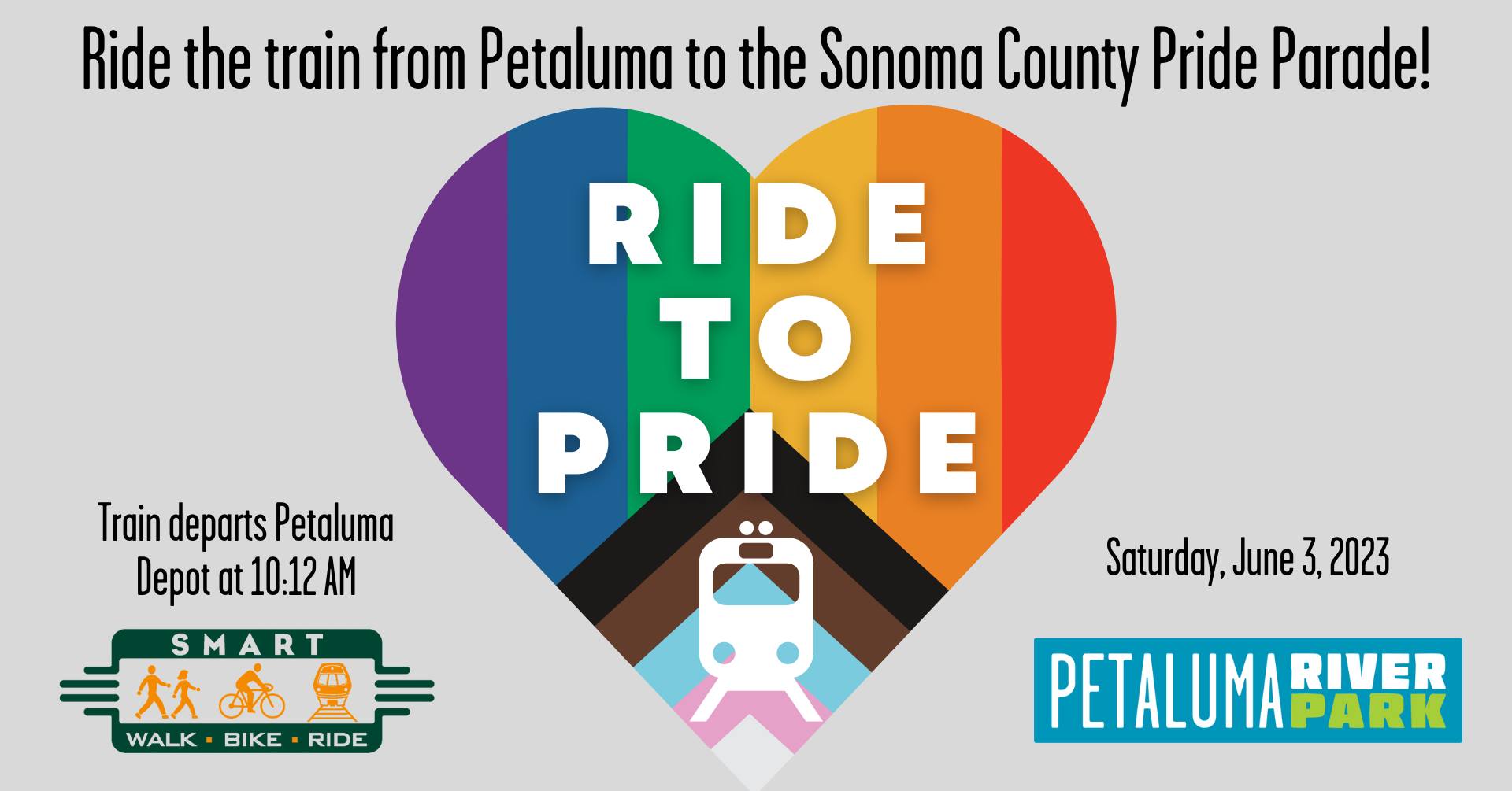 (Español abajo)
Are you planning to go to the Sonoma County Pride Parade and Festival this year? Join Petaluma River Park and other P-town friends on the SMART Train as we ride to pride!
Green is one of the prettiest colors in the rainbow, let's represent our commitment to climate-smart transportation AND our Queer community by riding the Train from Petaluma to Santa Rosa for the annual Sonoma County Pride Parade and Celebration.
Schedule & Details:
Meet at Petaluma Downtown Smart Station by 10:00 AM sharp!
–The train leaves at 10:12 AM and arrives in Santa Rosa at 10:37 AM.
–The Santa Rosa train station is about four blocks from the parade and festival area.
–You are responsible for knowing the train schedule and planning your own return trip.
When: Saturday, June 3 at 10:00 AM SHARP!
Where: Petaluma Downtown SMART Train Station: 220 Lakeville Street, Petaluma, CA
Learn more: https://www.petalumariverpark.org/events/ride-to-pride
Súmese a nosotros para honrar el Mes del Orgullo mientras celebramos a nuestra comunidad LGBTQIA+ local!
El verde es uno de los colores más bonitos del arcoíris, lo(a) invitamos a representar juntos nuestro compromiso con un transporte amigable con el clima Y con nuestra comunidad Queer viajando en tren de Petaluma a Santa Rosa para la celebración y desfile anual del orgullo del condado de Sonoma.
Horario y detalles:
¡Nos reuniremos en la "Petaluma Downtown Smart Station" (Estación Smart del Centro de Petaluma) a las 10:00 a.m. en punto!
–El tren sale a las 10:12 a.m. y llega a Santa Rosa a las 10:37 a.m.
–La estación de tren de Santa Rosa está a unas cuatro cuadras del área del desfile y el festival.
–Usted es responsable de conocer el horario del tren y planificar su propio viaje de regreso.
Cuándo: ¡El sábado 3 de junio a las 10:00 AM EN PUNTO! El tren sale a las 10:12 AM
Dónde: Petaluma Downtown SMART Train Station: 220 Lakeville Street, Petaluma, CA