Pride @ 6th Street Playhouse – The Legend of Georgia McBride
February 26, 2022 @ 2:00 pm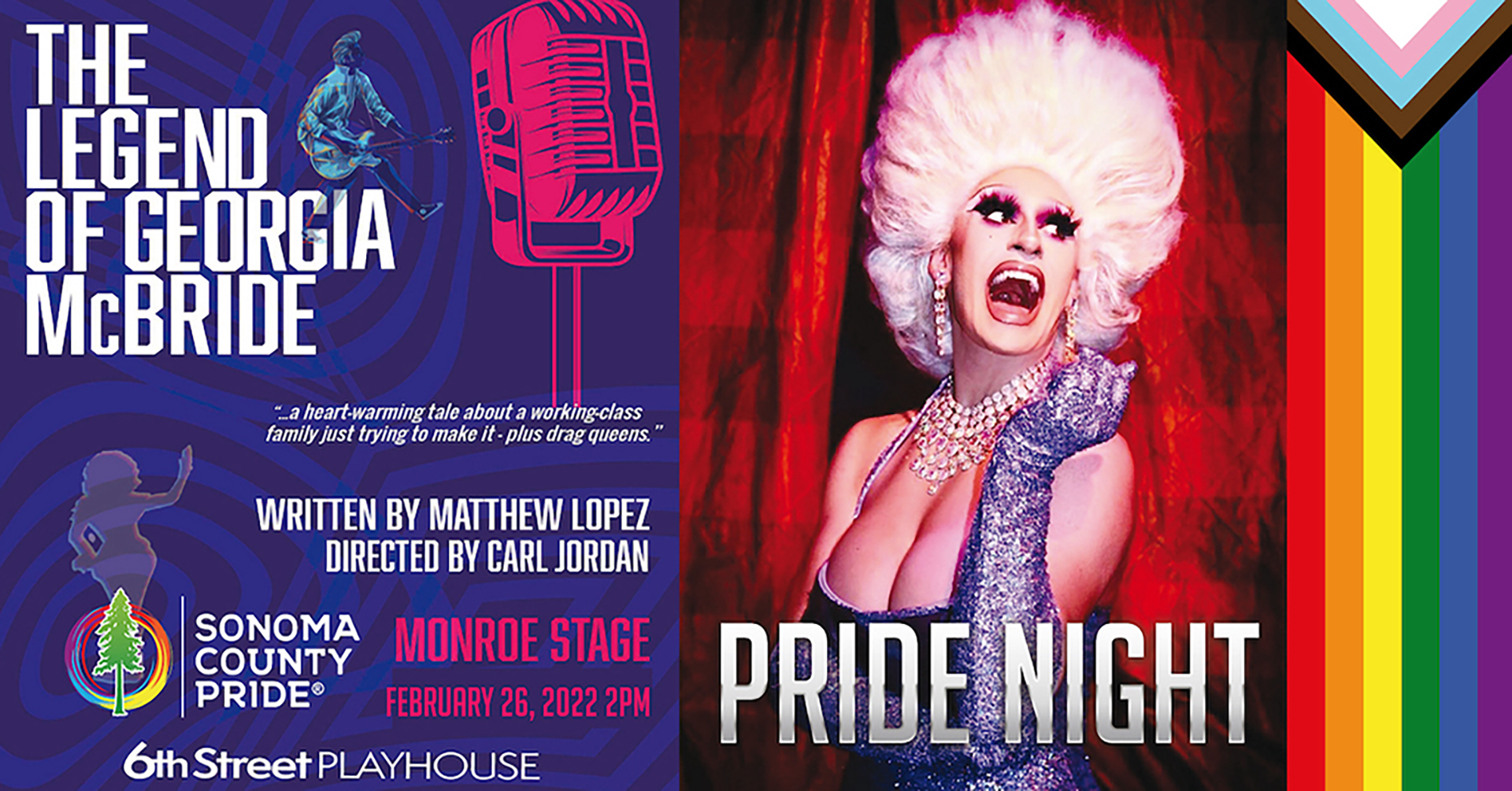 About this event
We Thank the 6th Playhouse for supporting Sonoma County Pride! A portion of your tickets proceeds will go to Sonoma County Pride, so we can continue to bring you year-round activities!
You are puchasing 1 ticket to The Saturday, February 26, 2022, 2 PM Performance of:
The Legend of Georgia McBride
"Full of sass and good spirits—along with a spritz or two of sentimentality…" —New York Times
A music-filled comedy about finding your true voice!
Picture this: You're barely making it as an Elvis impersonator in a run-down dive. You splurge on a pizza, your rent check bounces, again, and your wife's pissed. Then she announces, "I'm pregnant!"
Work ain't no picnic either. Your boss wants to save the place so he books a drag show, performed by his cousin (a drag queen) and her cranky companion. You get demoted to the bartender.
One night, just before her wacky-on-roller-skates number, the crank flakes out. "Hey, don't you know how to lip-sync?" asks the boss. Wham, bam, you're on the stage!
You manage not to blow it, and soon (with some expert tutelage) you find your groove. The money starts rolling in! Your sequined jumpsuit gives way to a gorgeous gown, and voilá—Georgia McBride is born!
We're thrilled to bring you this rare charmer—an homage to the drag queens who mentored the playwright through his own coming out.
Running time: Act 1 – 75 minutes, Act 2 – 30 minutes, plus a 15-minute intermission
Covid Safety:
Dear Patrons, 6th Street Playhouse is taking an aggressive step in trying to protect the Actors, Staff, Volunteers, and you, our Patrons, by asking for PROOF OF VACCINATION AND ID for anyone over the age of 5. Also, you must be prepared to wear masks throughout the performance and intermission. Food and drink may be consumed in the lobby but masks must be worn at all times unless you are actively eating or drinking.
We hope this is not an inconvenience but should you disagree with our cautious approach, we can issue you a credit that can be used for future performance tickets when the crisis has abated, or a refund.
We hope you understand that the health and well-being of everyone that works or visits the theater is our greatest priority and your support during these times would be extremely appreciated.
Sincerely, The 6th Street Board of Directors and Staff
Full details about our policy are on our website – https://6thstreetplayhouse.com/covid-policy/