OurTownSF Nonprofit Expo 2019
October 19 @ 12:30 pm

-

4:30 pm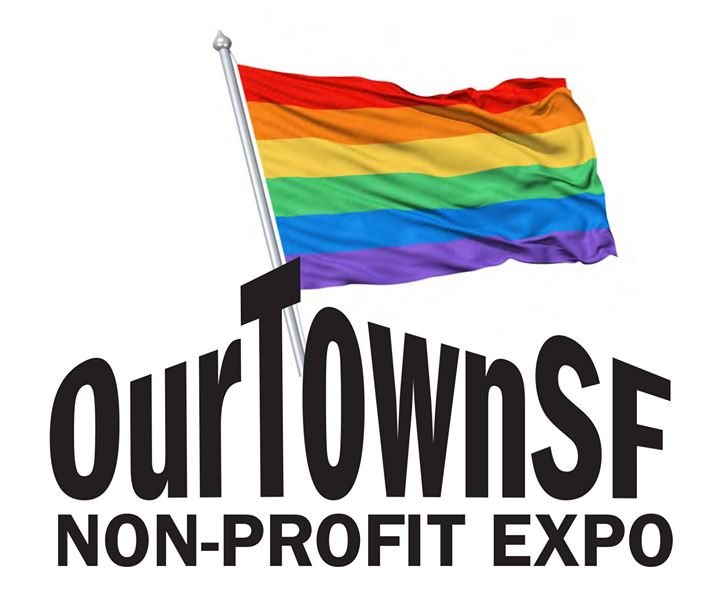 ORGANIZATIONS:
Reservations now available FREE to all organizations serving the Bay Area LGBTQ community. Contact expo@ourtownsf.org
A separate free launch party for the participating groups
Monday, September 16 from 6-8pm at Blackbird in the Castro
– see event page (event not for general public)
https://www.facebook.com/events/829933954017115/?active_tab=discussion
———————————————————————-
GENERAL PUBLIC:
OurTownSF Nonprofit Expo 2019
is Free to all nonprofits and attendees with
Food – Entertainment – Door prizes
Connect with your community at
"The largest LGBTQ resource fair ever held in San Francisco!"
with over 150 groups expected to participate.
4th annual resource fair of arts, community, fundraiser,
health, legal, political, recovery, service & spiritual groups serving the Bay Area LGBTQ community coming together
for a day of fun and community building in the Castro.
WARNING! This event is always super gay.
See the video from OurTownSF Nonprofit Expo 2018 https://www.youtube.com/watch?v=haImNxbRyV4
Check back on this page for updates or see https://www.ourtownsf.org/nonprofit-expo.html
Eureka Valley Recreation Center is wheelchair accessible
NEW in 2019:
*HIV testing courtesy of St. James Infirmary
*NAMES Project AIDS Memorial Quilt on display
*Art Saves Lives – art by local artists
*Entertainment:
SWAG – the vocal ensemble
The San Francisco Lesbian/Gay Freedom Band
Breanna Sinclaire – acclaimed transgender opera singer
* Queer Gaming Day taking place upstairs hosted by Queer Gaming Day of SF, East Bay Gaymers and Geeks and Oakland LGBTQ Community Center Gaymers
* Photo opportunities with local queer celebrities
Photo Booth:
One, Two, Smile! Photo Booth – have your photo taken weather or not you choose to wear one of their props. A 4×6 high quality photo is printed immediately + emailed to you.
Book Signing
1/ Cleve Jones, author of "When We Rise: My Life in the Movement" – 2017 Lambda Literary Award Winner
2/ Anand Vedawala – Executive Director of SF Zine Fest. He publishes zines about relationships, identity, cultural expectations, racism and queerphobia
3/ Heather Jacks – award-winning author of Sister Stories…in their own words – a 200 page coffee-table book, consisting of personal interviews and stunning photos of select San Francisco Sisters of Perpetual Indulgence.
4/ Jim Provenzano – is the author of 6 novels including 'Now I'm Here,' the Lambda Literary Award winner (Gay Romance) & 'Every Time I Think of You,'
Documentary
Through the Windows – about Twin Peaks Tavern, the bar that changed the face of the gay community in the 70's by opening its windows
Blessing: Rose Mary Chicken of The Sisters of Perpetual Indulgence
Food Passed by the sexy men of the Bare Chest Calendar
Medical Services:
1/ spine exams and injury consultations by SF Spine Pain Relief Ctr
2/ oral exams by UCSF School of Dentistry – Gender & Sexual Diversity in Dentistry
3/ personal trainer consultations by David Ames of DRAFitness
4/ skin checks by Dermatology Center of San Francisco
Chair Massages: Positive Being
Dog Adoptions: Family Dog Rescue, Muttville Senior Dog Rescue
Videography: Archive Productions
Patrol: Castro Community on Patrol
Voter Registration: Alice B. Toklas LGBT Democratic Club
Health Insurance Assistance: SF Community Health Center
Major sponsor:
Bon Appétit Management Company, Uber
Media sponsor:
Cong. Sha'ar Zahav
MXD Magazine
SF Bay Times
Sponsor:
Blackbird, Dignity San Francisco, Gilead, Golden Gate Urology, The Logo Show, Positive Being, Reproductive Science Center
Community level sponsor:
Academy of Friends
AIDS Legal Referral Panel
Individual donors:
Fred Redmond, Jay Greene, Monica Monet, Toni Newman, Manuel Ojeda, Okan Sengun, Linci Comy, Ellen Krantz, Larry Lare Nelson, Michelle Skoor, Jack Beck, Gil Padia, Stewart Kramer, Gulhan Yuzgec, Randall Kikukawa, Nikhil Londhe, Larry Rich, Alan Gamrican, Stephen Prestwood, Diane Sciarretta, Andrew Fyne, David D. Cannon, Paul Curtis, Ed Mathews, Tom Temprano, Marcy Adelman, Jonathan Campbell, DJ Love Tap, Harry Breaux, Todd Aghazadeh, Eddie Rifkind, Mark Leno, Joseph Tally, Meghan Jump, Karen Schiller, Lyle J Beckman, Linda Ostrom, Marilyn Schneider Hollinger, Paul Evan Gross