LUSH at Vintage Space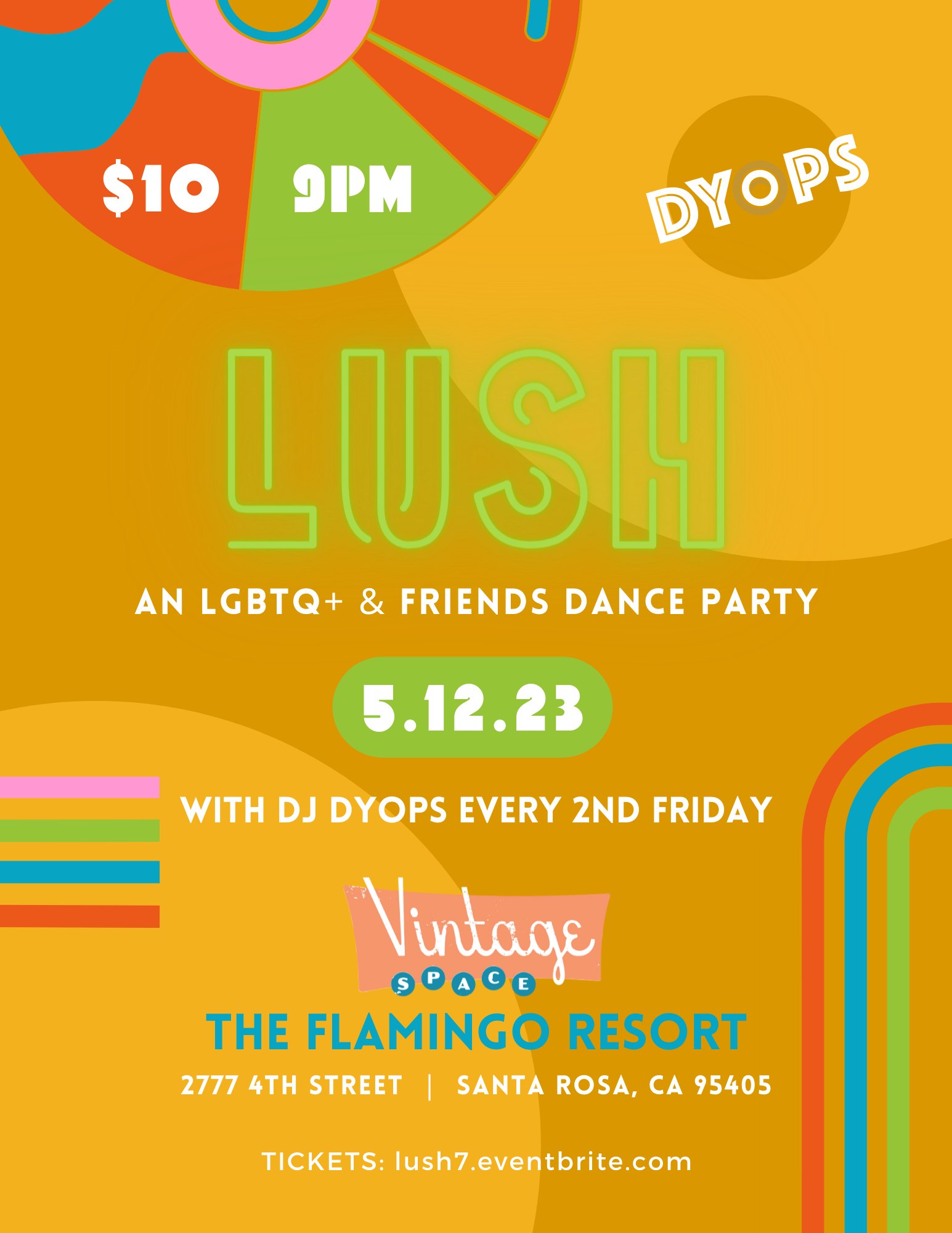 LUSH is back! As always bring your friends and come dance the night away!
This dance party is for our LGBTQ+ community and is a safe space for all!
DJ DYOPS:
DYOPS was inspired to become a DJ after getting involved in the music festival scene years ago. She wanted to create the same magical feeling she experienced while dancing to DJ sets at festivals and shows. Growing up immersed in punk music as a roadie in high school, music has always been DYOPS' refuge.
DYOPS' sets are all about getting the audience moving, with an eclectic range of genres including Hip Hop, Afrobeats, House, R&B, Downtempo, and Bass. She takes pride in curating a musical journey for her audiences filled with lusty peaks and sultry valleys, constantly digging for new music to add to her diverse collection.
As a resident DJ at Vintage Space at the Flamingo Resort in Santa Rosa, DYOPS hosts LUSH – a monthly dance party for the LGBTQ+ community. She has also performed at many venues and for clients all over California, as well as Lightning in a Bottle and Northern Nights music festivals.
With her ability to curate an unforgettable musical experience and her dedication to discovering new music, DYOPS is a rising talent in the DJ scene.
TICKETS: $10
DOORS: 9PM
AGES: 21+
About The Venue:
Vintage Space is a retro-futuristic music lounge hosting a cosmic array of live music, dancing, DJ's, and special events. Originally built in 1957, a time when the public's imagination was captivated by the dawn of the space race – Vintage Space melds the past with a bright tomorrow. A bastion of good vibes, far-out sounds and stellar cocktails that's been sending it since Sputnik.
All General Admission Tickets are Standing Room with limited seating. (Unless otherwise noted)