JOIN US IN CELEBRATING ONE YEAR OF LUSH AT VINTAGE SPACE!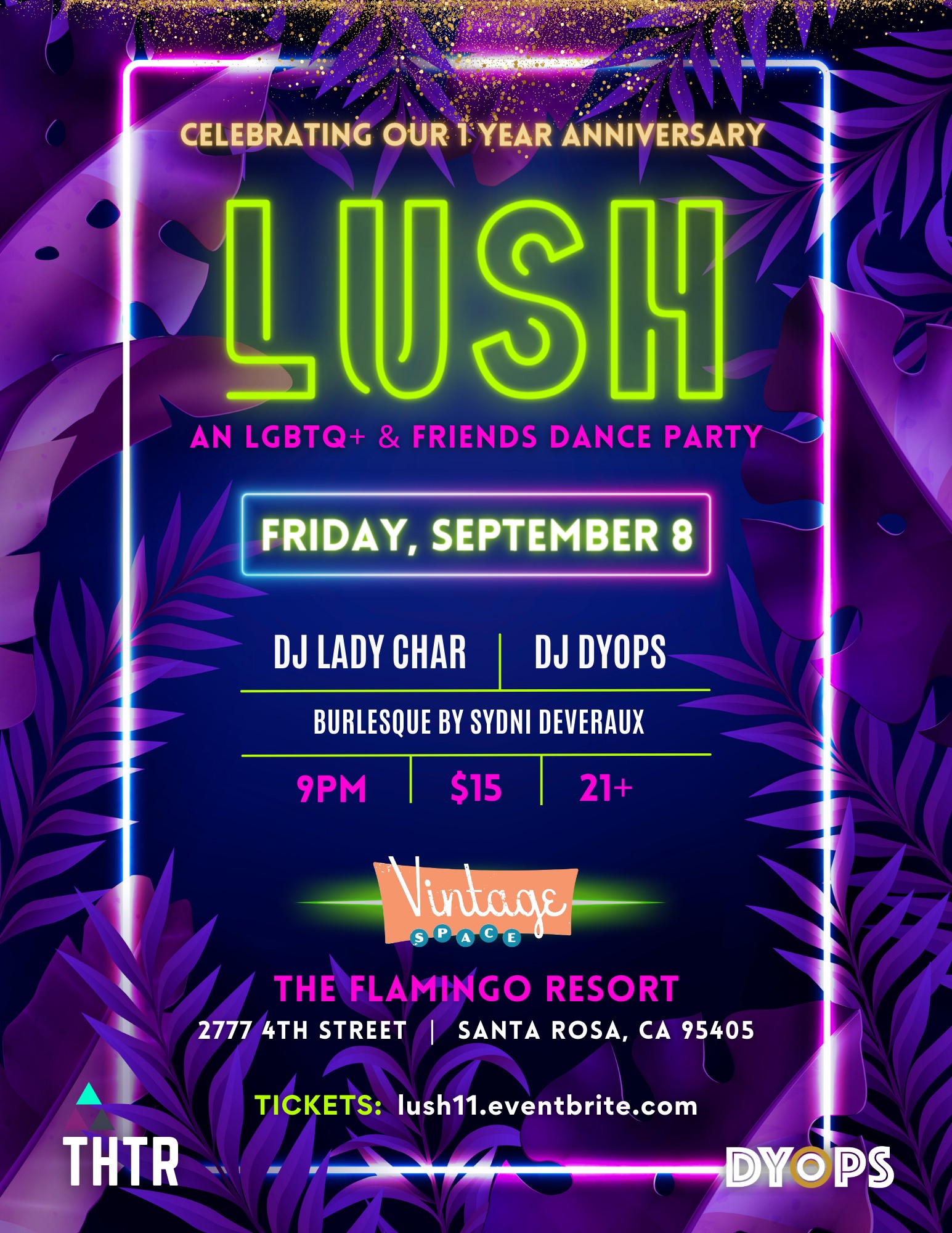 JOIN US IN CELEBRATING ONE YEAR OF LUSH AT VINTAGE SPACE!
• @thtr_productions will be your hosts for the evening bringing you contests & prizes and a huge amount of smiles & laughs!
• We're so excited to be bringing back one of our favorite guest DJs @djladychar! If you've seen her DJ before you know she gets the crowd going wild! 🔥
• Burlesque Hall of Fame award-winning performer @divine.deveraux will blow your mind so bring those 💵!
• We'll have our favorite vendors @disguisethelimitsr and @gayareaclothing back along with some really incredible prizes!
• As always DJ Dyops will be warming up the night for you!
Bring your friends and join us in celebrating ONE YEAR @vintagespacesr in @theflamingoresort on September 8th at 9pm.
This dance party is for our LGBTQIA+ community and is a safe space for all!
DJ LADY CHAR:
One of Sacramento's most prominent and musically diverse DJs, with club residencies all over California and Nevada. Char travels all over the Bay Area on a weekly basis rocking dance floors with pride. Char has a strong love of not just playing music, but being an active part of the community and our youth. She is an open format DJ who loves to genre hop during her sets, offering each night as a musical journey to her followers.
Lady Char was raised in the 707 and found her love for music in the beautiful Bay. Char grew up with a family who surrounded themselves with music and dancing and through them she gained a very broad musical taste (80's, Soul, Reggae, R&B, Hip Hop, Alternative and even Country.) She was introduced to House Music during the late 90's rave scene and this then paved the way towards her musical career.
In early 2016 Char started her own after school DJ youth enrichment program, Love Beat DJ Workshops, where she educates and inspires youth through music and DJ culture.
Char takes pride in creating an unforgettable experience for all, in every event she takes part in, big or small. She hopes to move you with music, beats that touch your soul and make you forget about the daily stresses in life. Lady Char is all about love and positivity, she promotes equality and loves to support all those with like minds.
https://www.sgtdiewies.com
SYDNI DEVERAUX:
Sydni Deveraux "The Golden Glamazon" is a 2 time winner at the Burlesque Hall of Fame (Las Vegas, Nevada) and International Headlining performer. Hailing from Seattle, WA but now a Bay Area babe- Sydni teaches burlesque classes both privately online and through Flux Vertical Theatre in Berkeley, CA.
A pinup and model since 2004, performing on stages since 2005, teaching since 2008 and producing various showcases since 2010, Sydni has spent almost 20 years consumed by the experience of performing divine musicality and powerful femininity.
https://www.divinedeveraux.com/
THTR PRODUCTIONS:
From the producers of DRAG BRUNCH AT THE FLAMINGO, Drag Trivia Night, Escape To Wonderland, Guncle Sam, The Oz Ball and Totally Tubular 80s Prom, THTR believes in collaboration and community, and we can guarantee that working together means growing together. By teaming up with local artists and artisans, as well as tapping into our network from the New York City theatre and nightlife scenes, THTR is ready to take your event to the next level!
https://www.thtrproductions.com
DJ DYOPS:
DYOPS was inspired to become a DJ after getting involved in the music festival scene years ago. She wanted to create the same magical feeling she experienced while dancing to DJ sets at festivals and shows. Growing up immersed in punk music as a roadie in high school, music has always been DYOPS' refuge.
DYOPS' sets are all about getting the audience moving, with an eclectic range of genres including Hip Hop, Afrobeats, House, R&B, Downtempo, and Bass. She takes pride in curating a musical journey for her audiences filled with lusty peaks and sultry valleys, constantly digging for new music to add to her diverse collection.
As a resident DJ at Vintage Space at the Flamingo Resort in Santa Rosa, DYOPS hosts LUSH – a monthly dance party for the LGBTQIA+ community. She is also the DJ for North Bay Cabaret and she co-hosted "The Precipice" with Kayatta, a monthly hip hop showcase featuring local talent and still works with Kayatta as her DJ. DYOPS has performed at many venues and for clients all over California, as well as Lightning in a Bottle, Northern Nights, Railroad Square Music Festival, and Petaluma Music Festival.
With her ability to curate an unforgettable musical experience and her dedication to discovering new music, DYOPS is a rising talent in the DJ scene.
https://linktr.ee/djdyops
TICKETS: EARLY BIRD $10, ADVANCED $13, GENERAL $15
DOORS: 9PM
AGES: 21+
About The Venue:
Vintage Space is a retro-futuristic music lounge hosting a cosmic array of live music, dancing, DJ's, and special events. Originally built in 1957, a time when the public's imagination was captivated by the dawn of the space race – Vintage Space melds the past with a bright tomorrow. A bastion of good vibes, far-out sounds and stellar cocktails that's been sending it since Sputnik.
All General Admission Tickets are Standing Room with limited seating. (Unless otherwise noted)