Documentary Film Discussion Group – El canto del Colibri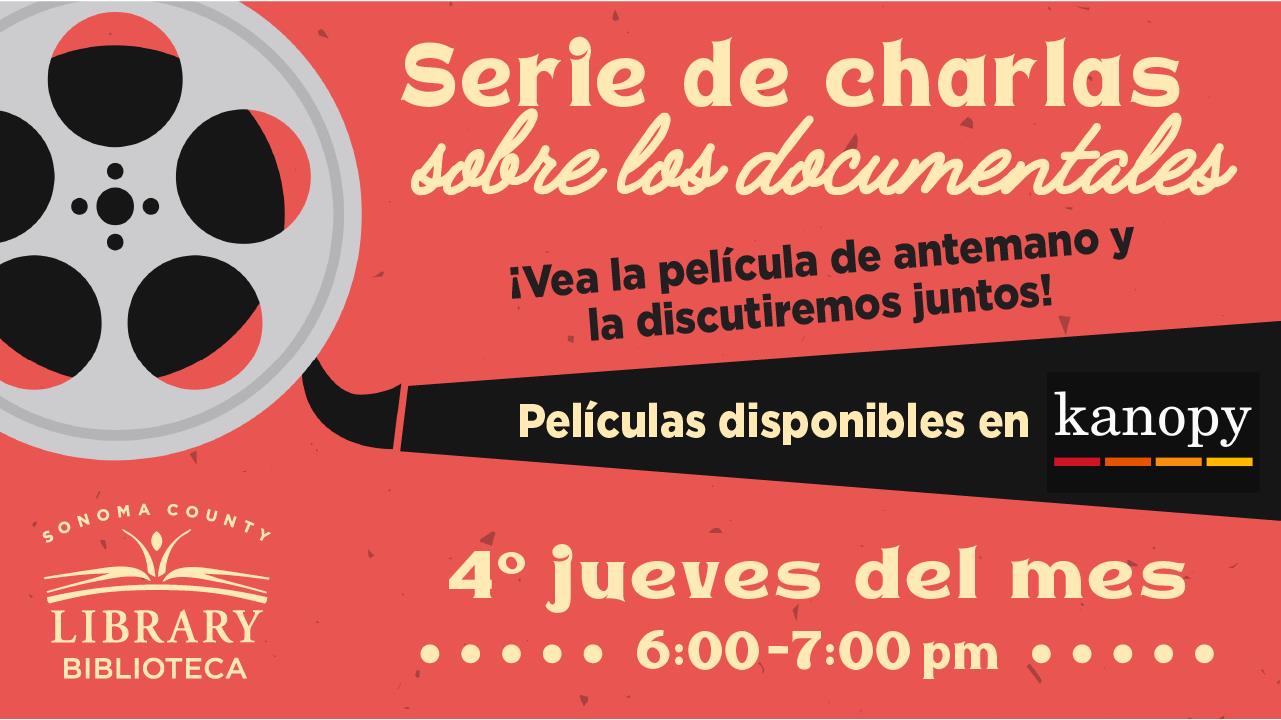 Película de este mes
El Canto del Colibri
https://events.sonomalibrary.org/event/4859704
Puede ver la película en Kanopy con su tarjeta de biblioteca: https://www.kanopy.com/product/el-canto-del-colibri-latino-immigrant-men-
Al igual que la canción rara vez escuchada del colibrí, las voces de los padres latinos rara vez se escuchan al abordar los problemas LGBTQ. Esta película tiene como objetivo amplificar sus voces.
"El Canto del Colibri" es una historia de padres latinos que se enfrentan a problemas de inmigración, fe, matrimonio igualitario, cultura machista y el proceso de salida de sus hijos LGBTQ. Respondiendo a las solicitudes del público de "Tres Gotas de Agua" en todo el mundo, los realizadores emprenden este viaje invitando a los hombres latinos a hablar con franqueza sobre temas delicados y profundamente personales. Esta película abordará cuestiones políticas sobre las familias LGBTQ, la opresión social, la responsabilidad compartida y la aceptación de las personas LGBTQ como miembros de familias latinas.
Los cineastas le traerán historias reales, historias de padres inmigrantes latinos, con entrevistas e interacciones con miembros de la familia, y su vida cotidiana en sus comunidades como trasfondo. Utilizando una cinematografía espectacular de nuestras coloridas comunidades latinas en todo el país, los realizadores pretenden exponer diferentes puntos de vista y ayudar a impulsar el desarrollo de un diálogo poderoso en nuestras comunidades. Esta película busca luchar contra el aislamiento y construir puentes de esperanza y solidaridad entre nuestros padres latinos, sus familias y activistas comunitarios.
Esta discusión será en inglés y español.
Para obtener instrucciones sobre cómo configurar una cuenta de Kanopy, visite https://sonomalibrary.org/library-collection/kanopy
Se le enviará por correo electrónico la información de Zoom Meeting antes de la reunión.
—
This Month's Film-
El canto del Colibri
https://events.sonomalibrary.org/event/4859704
You can view the film on Kanopy with your library card: https://www.kanopy.com/product/el-canto-del-colibri-latino-immigrant-men-
Much like the seldom-heard song of the hummingbird, the voices of Latino fathers are rarely heard in addressing LGBTQ issues. This film aims to amplify their voices.
"El Canto del Colibri," is a story of Latino fathers dealing with issues of immigration, faith, marriage equality, machismo, culture, and the process of their LGBTQ children coming out. Responding to requests from "Tres Gotas de Agua" audiences around the world, the filmmakers are taking this journey by inviting Latino men to speak frankly about delicate and deeply personal topics. This film will address political issues about LGBTQ families, social oppression, shared responsibility and acceptance of LGBTQ people as members of Latino families.
The filmmakers will bring you real stories, Latino immigrant fathers' stories, with interviews and interactions with family members, and their everyday lives in their communities as a background. Using spectacular cinematography of our colorful Latino communities around the country, the filmmakers intend to expose different points of view and help spur the development of powerful dialogue in our communities. This film seeks to fight isolation and build bridges of hope and solidarity among our Latino fathers, their families and community activists.
This discussion will be in English and Spanish.
For instructions on how to set up a Kanopy account, visit https://sonomalibrary.org/library-collection/kanopy
You will be emailed Zoom Meeting information before the meeting.