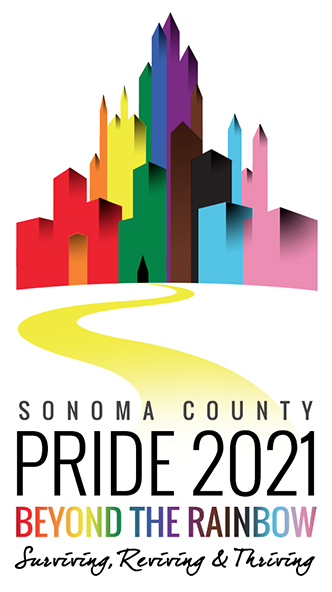 Sonoma County Pride is Back,
Beyond The Rainbow – Thriving, Reviving, and Surviving!
Sonoma County, CA – After a challenging year of cancellations and lockdowns, this year's Sonoma County Pride celebration returns with hope and positivity! This annual event will include a month-long series of COVID-19 aware micro-events in varied venues throughout Sonoma County. The events will offer activities for all ages and abilities. This year's theme, "Beyond the Rainbow: Surviving, Reviving, and Thriving", takes inspiration from THE WIZARD OF OZ to offer renewal and support to the LGBTQ community. Sonoma County Pride's Secretary Cheryl Kabanuck puts the beloved film's lessons into perspective. "There's no place like home being back together with our community. Courage leads us here, knowledge is how we survive and heart is what keeps us together."
Since the worldwide pandemic forced the cancellation of 2020 Pride events everywhere, it was important to find a unifying theme to recognize we're not all in the same space mentally and emotionally. The past year has been incredibly challenging for everyone, and each of us faced different struggles. The focus for Sonoma County Pride 2021 is on the mental, physical and emotional health and wellness of community members. Vice President Grace Villafuerte emphasizes, "While some of us are reviving and thriving, some of us are still focused on surviving. Wherever we are on our journey, we hope Sonoma County Pride 2021 will offer each of us a feeling of community, pride, and peace. We strive to not only reach our unique rainbows – our dreams and inner strengths, but we look to go Beyond the Rainbow!"
According to Director of Logistics Brian Rogers, "Those of us who survived this surreal year gained new respect and meaning for the prime lesson Dorothy learned in Oz: 'There's no place like home.' Now that we have nearly SURVIVED the pandemic, let's embrace that hopeful spirit as we REVIVE together and support one another so we can once again THRIVE."
Christopher Kren-Mora, President of Sonoma Pride, promises a different but exciting series of events to bring the community back together in a spirit of celebration. "It won't be a single weekend this year, but a month of fun, hope, and renewal that we've all been hoping for." The calendar of upcoming Sonoma County Pride events will be published as dates and venues are confirmed.
INFORMATION ABOUT EVENTS COMING SOON!