Sonoma County Pride's Scavenger Hunt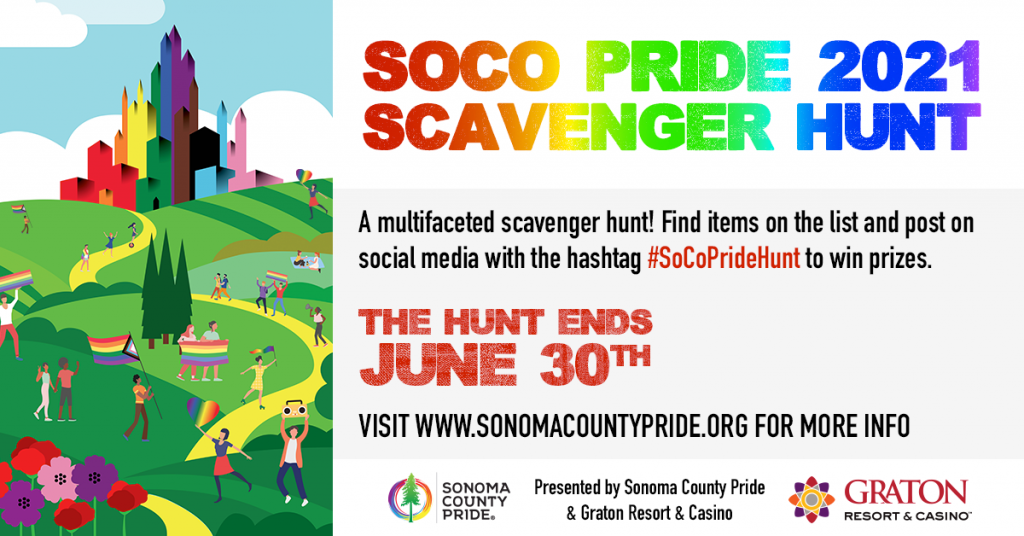 Our Scavenger Hunt is designed to include activities for people of all ages and abilities to participate, whether you are able to visit places in or around Sonoma County, or are restricted to staying at home.
You have all month to complete as many activities as you can and submit proof of your accomplishments throughout the month. 
Participants submit proof of completion of tasks by either:
use #SoCoPrideHunt and post to Facebook or Instagram

thehunt@sonomacountypride.org

or Text to Sonoma County Pride with Subject "SoCo Pride Hunt"
SELFIE PHOTOS
Find the Rainbow Crosswalk, and then take a pic Standing on Rainbow Crosswalk / Triangle

In front of a past or present Sonoma County gay bar

In front of a rainbow banner in a Sonoma County city or town – a point for each town

In front of Rainbow Flag raised in a Sonoma County town/city- a point for each different flag

Yourself dressed in drag (however you define that)
THANK OUR SPONSORS:
We are so grateful for our sponsors and want participants to appreciate them as well, by visiting their businesses. 
In addition to using #SoCoPrideHunt, please add the # (hashtag) for the business as well
Graton Resort and Casino

– find their logo in pride colors in the Casino and take a selfie with it

#gratoncasino
US Bank –

Visit US Bank on 1 of the two following days, take a

selfie

with one of the listed team members, and get some fun swag!

#usbank

Tuesday, June 15th – 9 am-3 pm – Rohnert Park Branch (6500 Commerce Blvd) – Team Members: Heather, Andrew, Gus, Beck, Laurie & Sam 

Wednesday, June 23rd – 9 am-3 pm – Santa Rosa Branch at Montgomery Village (2308 Magowan Drive) Team Members: Laurie, Jasmin, Kellie, Ajay & Gus 

Take a Selfie Pic with the Pride Display at

Sports Basement #sportsbasementsantarosa #sportsbasement

FOR VOLUNTEERS: Use your volunteer discount code, take a selfie with your new purchase

Selfie pic with the Men's LEVI's Section at Macy's at Santa Rosa Plaza #macys #macyssantarosaplaza

Visit

Macy's Backstage Area

on the 3rd Floor and take a pic with the Pride Display

#macys #macyssantarosaplaza

Selfie of you ordering from the awesome crew at

BREW #brewsantarosa

Selfie of you with the progressive flag at

BREW #brewsantarosa

What is turning on the home page of

Pride Outlet

(

www.prideoutlet.com

) and what is the first song that comes to your mind?

#prideoutlet
Martin Ray Winery

– selfie pic with the Rainbow Water Tower

#martinraywinery

Answer the Pride Trivia Questions at the

Laugh Cellar

website

#laughcellar

Visit

Fountaingrove Lodge,

go to the pride station set up in the lobby of the community center, take a photo next to the pride flag, and grab any information or swag. Visit only

Tuesday through Saturday, 9:30AM until 4:30PM

#fountaingrovelodge

Visit

Lala's Jam Bar & Urban Farmstand

and take a selfie with your free jar of jam!

720 E. Washington, Petaluma Thursday – Monday 10 am – 5 pm

#lalasjambar

Visit

Wooden Petal

and Take a Selfie Pic with the Pride Flag in the Window! (404 Santa Rosa Ave to the left of Dierks Parkside Cafe)

#woodenpetalpretzel
Red Bull

– "Show us your wings" Take a picture of you doing something you love outdoors – hold or wear some rainbow stuff

#redbullgivesyouwings

Take a picture with a

Recology

bin or can while wearing or showing your rainbow pride!

#recology

Take a selfie in a

Sonoma County Regional Park

(you get 1 point for each park!)

#sonomacountyregionalparks

Take a selfie with the Pride Mannequin at

Fleet Feet Santa Rosa

– each entry is entered into a raffle to win Pride Sunglasses

#fleetfeetsantarosa

Take a selfie in the newly renovated

Bar

in the

R3 Hotel #r3hotel
El Coqui –

take a selfie enjoying Puerto Rican food/drink –

#elcoquisantarosa
Noble Folk

– take a selfie pic at one of the two locations in Healdsburg or Santa Rosa  (5 points for each location)

#noblefolk
Kryolan Professional Make-up –   #kryolanus

taking a selfie anywhere in the store (1864 Union St, San Francisco)

Selfie with the Kryolan logo or mask

Use 20% promo code online or in our store: KRYOLANQUEEN2021 and take a selfie with your new purchase when you receive it

Visit Grand Central in Petaluma – grab a coffee – take a selfie in the hammocks behind #grandscentralpetaluma
COMMUNITY PARTICIPATION
Make a donation of any amount to a local non-profit that serves the LGBT community

Volunteer at a Non-Profit that supports the LGBTQI+ Community
HOME SELFIE VIDEO (1 MIN OR LESS)
Who is your Queero (LGBTQI+ Hero) and why?

Message to someone thinking of coming out

Who was your first celebrity crush and why?

What is a large-scale LGBT-related event that has happened in your lifetime, and why was it significant to you?

Tell us about the first Pride event you attended, and one of your favorite memories from it
TRIVIA TIME!
When and where was the first Sonoma County Pride?

Which Senior Centers host LGBTQI+ Related events

What is the name of the LGBTQI+ Retirement Community in Sonoma County?

What organization(s) can an LGBTQI+ Youth go to for support?

What Sonoma County organization has been providing HIV prevention, education, and services since 1983?
PRIDE BINGO:
Read an LGBT related book you have never read before

Watch an LGBT movie you have never seen before

Attend a "Friends of Dorothy" Zoom

Hang a Pride Flag inside or outside of your home

Write an anonymous, supportive letter to an LGBTQI+ person older or younger than you (to someone you do not know)

Write and Mail a letter to a friend or family member 

Attend one of the Sunday Outdoor Pride Activities

Attend the Drive-Thru Parade – send us a pic (or several)

Attend the "Wizard of OZ Sing-a-long" at Sally Tomatoes – send us a pic

Attend the Rainbow City June 26 Concert – send us a pic
Participants can submit proof of completion of tasks by either:
use #SoCoPrideHunt and post to Facebook or Instagram

thehunt@sonomacountypride.org

or Text to Sonoma County Pride with Subject "SoCo Pride Hunt"
Proof of completion of task must be submitted by midnight June 30, 2021.  Prizes awarded to most tasks completed. Each Task is one point. 
Special Prizes for Most Creative Entries. Check back frequently for new items.
Details:
General Admission $ FREE