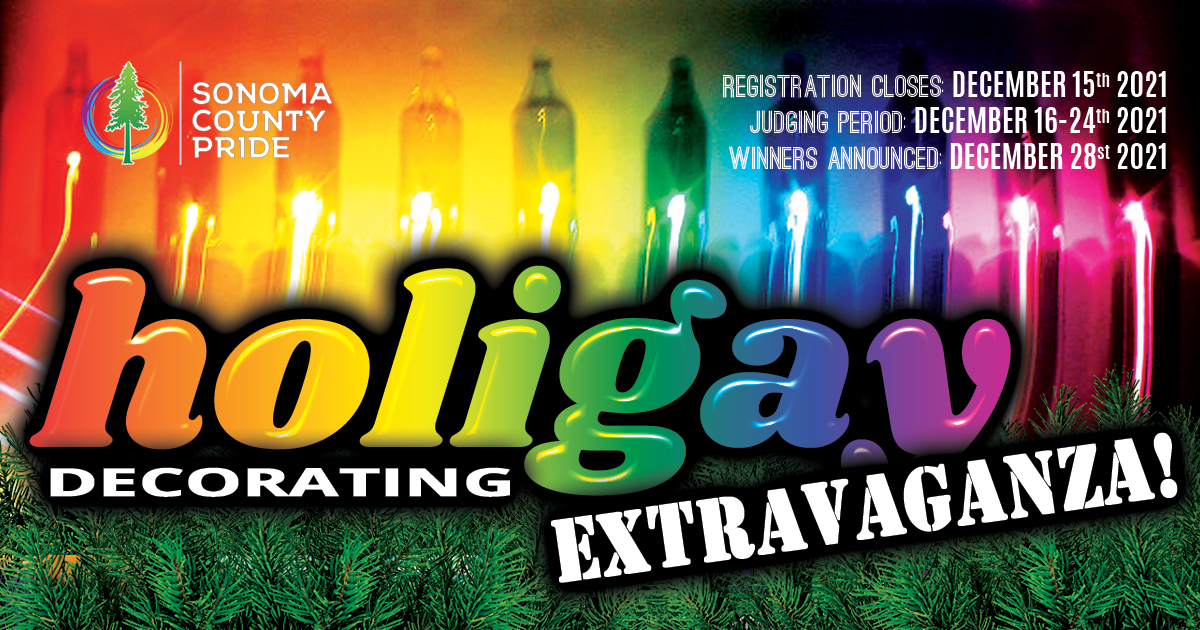 2nd Annual Holigay Decorating Extravaganza!
Sponsored by:

Get out your tinsel, lights, inflatables, and garland! It's time to decorate your house & lawn for a great cause while bringing cheer to our community!
Join us as we don our Gay apparel with Sonoma County Pride's Inaugural "HoliGAY Decorating Extravaganza" Contest! After another challenging year, we look forward to uniting and connecting in spirit (and online… and maybe through drive-bys). Participants will decorate their home, and judges will drive by during the week of judging, and choose their winners for three different categories.
In addition, everyone is invited to marvel at the participating houses and choose their favorite. Locations of participating homes will be made available by Sonoma County Pride. Let's brighten up the end of 2021 with Beyond The Rainbow and lights, lots of lights!  Don't hold back, show your pride with holiday decorations!
Registration deadline: December 15th
Judging period:  December 16 – 24, 2021
$25 Entry Fee
A Sonoma County Pride Benefit.
Participation Rules
Participation is open to all residents within the boundaries of Sonoma County.  House must be safe to view and the road must be accessible by vehicle.
Entry is $25.00 and is a fundraiser for Sonoma County Pride.
Sonoma County Pride Board of director members is not eligible to enter.
Applications will be available starting on November 17th and must be submitted no later than 11:59 pm on December 15th.   All applications must be submitted via the online form with payment.
The contest is for exterior decorations only, including decorations in windows that are visible from the exterior. Judging will be done from outside the residence only.
Judging will be based on "curb appeal" as viewed from the street only. Therefore, only those decorations located on the street side of the property will be judged (corner lots will be judged from both streets). Judges will not enter the property to view back or side yards.
Participants agree to have their address posted on the Sonoma County Pride website, Santa Rosa Gaydar Website and Meetup page, and Sonoma County Pride and its social media affiliates.
Participants agree to have one or more photos of their decorated residence exterior posted on the Sonoma County Pride Website/Facebook page and Santa Rosa Gaydar Facebook page. Pictures may also be posted in other social media outlets and in local media publications or websites. Participants agree there will be no compensation of any kind for said posting or publication.
Prizes will be awarded in the following categories:
Originality and creative use of lights and decorations;
Use of theme "Beyond The Rainbow;" and
Overall presentation. (Grand Prize)
Fan Favorite
Judging will be done throughout the week of December 16 – 24th, between 6-9 pm on each day.
Participants should ensure that all lights and decorations are in place and activated during the judging period.
Prizes will include TBA!
Winners will be announced on Tuesday, December 28th at 7:00 p.m. via the Sonoma County Pride Website and social media outlets, and by email to each participant.
Be creative, be festive, have fun.  Happy Holidays!
This carousel is empty, please add some logos.