``Friends of Dorothy`` Community Conversations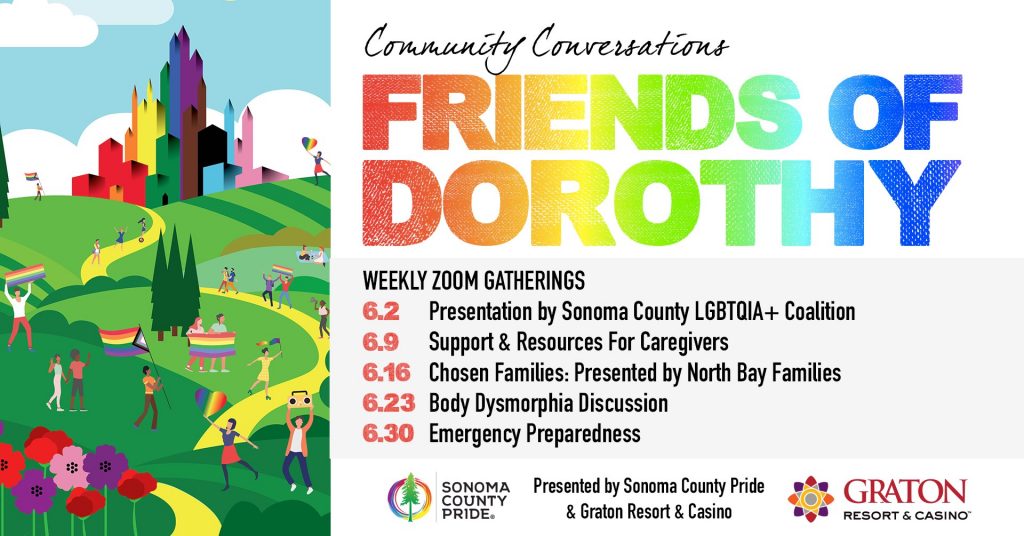 Sonoma County Pride & Graton Resort & Casino Presents "Friends of Dorothy" Community Conversations. Each week throughout Pride month we'd liked to engage with you on trending topics facing the LGBTQI community.
Join us each Wednesday during June from 5:30p to 7:30p for social & discussion.
Zoom Format:
5:30 – 6:00 pm Social/Meet & Great
6:00 – 7:00 Guest Presenter
7:00 – 7:30 Q&A/Audience Discusion
Weekly Topics:
𝗝𝗨𝗡𝗘 𝟮 – 𝗣𝗥𝗘𝗦𝗘𝗡𝗧𝗔𝗧𝗜𝗢𝗡 𝗕𝗬 𝗦𝗢𝗡𝗢𝗠𝗔 𝗖𝗢𝗨𝗡𝗧𝗬 𝗟𝗚𝗕𝗧𝗤𝗜𝗔+ 𝗖𝗢𝗔𝗟𝗜𝗧𝗜𝗢𝗡
Announcement of LGBTQIA+ Needs Assessment Survey
Introductions, Purpose, and Recent Work of Coalition
Mission: This coalition exists to advocate on behalf of all LGBTQ people in Sonoma County by coordinating services and using an intersectional approach to advocacy.
𝗝𝗨𝗡𝗘 𝟵 – 𝗦𝗨𝗣𝗣𝗢𝗥𝗧 & 𝗥𝗘𝗦𝗢𝗨𝗥𝗖𝗘𝗗 𝗙𝗢𝗥 𝗖𝗔𝗥𝗘𝗚𝗜𝗩𝗘𝗥𝗦
Group activity for LGBTQIA+ caregivers, facilitated by 𝗥𝗵𝗶𝗮𝗻𝗻𝗼𝗻 𝗖𝗼𝘅𝗼𝗻, 𝗠𝗣𝗔
𝗝𝗨𝗡𝗘 𝟭6 – 𝗖𝗛𝗢𝗦𝗘𝗡 𝗙𝗔𝗠𝗜𝗟𝗜𝗘𝗦 – 𝗛𝗼𝘀𝘁𝗲𝗱 𝗯𝘆 𝗡𝗼𝗿𝘁𝗵 𝗕𝗮𝘆 𝗟𝗚𝗕𝗧𝗤𝗜 𝗙𝗮𝗺𝗶𝗹𝗶𝗲𝘀
𝗝𝗨𝗡𝗘 𝟮𝟯 – 𝗕𝗢𝗗𝗬 𝗗𝗬𝗦𝗠𝗢𝗥𝗣𝗛𝗜𝗔 𝗗𝗜𝗦𝗖𝗨𝗦𝗦𝗜𝗢𝗡
Presentation on Body Dysmorphia and its effect on the LGBTQI Community. 4 individuals sharing their personal experiences.
𝗝𝗨𝗡𝗘 𝟯𝟬 – 𝗘𝗠𝗘𝗥𝗚𝗘𝗡𝗖𝗬 𝗣𝗥𝗘𝗣𝗔𝗥𝗘𝗗𝗡𝗘𝗦𝗦
Presentation & Resources from 𝗦𝗼𝗻𝗼𝗺𝗮 𝗖𝗼𝘂𝗻𝘁𝘆 𝗙𝗶𝗿𝗲 𝗗𝗶𝘀𝘁𝗿𝗶𝗰𝘁
facilitated by: 𝗖𝘆𝗻𝗱𝗶 𝗙𝗼𝗿𝗲𝗺𝗮𝗻 – 𝗙𝗶𝗿𝗲 𝗠𝗮𝗿𝘀𝗵𝗮𝗹𝗹
Our "Friends of Dorothy" Community Conversations Zoom events are free to register.
Once you have registered for our Zoom workshops, we will send you a weekly email with the Zoom information for the workshop.
Donations are greatly appreciated.