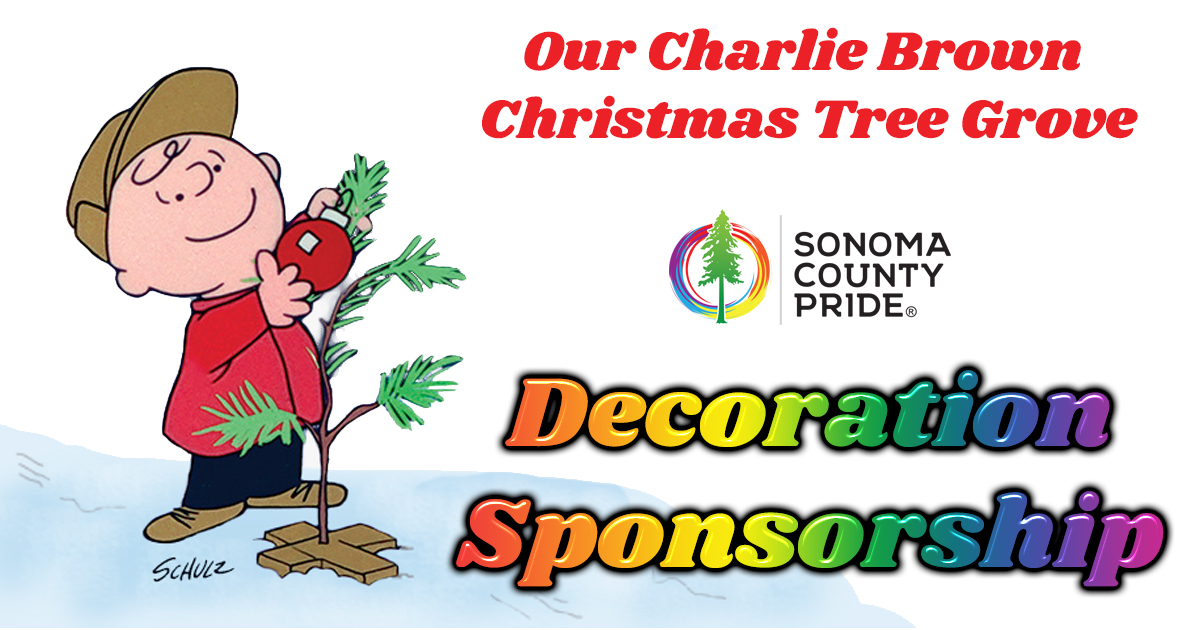 Holiday Tree on the Windsor Town Green in the Charlie Brown Holiday Tree Grove Decoration Sponsorship.
Can you believe we are already into the Holiday Season 2021?!  In spite of still dealing with COVID, we did a lot this past Pride in June, and it is all thanks to you and your support!  Sonoma County Pride would not have been able to put on any events without your continuing support and generosity. So, from the bottom of our hearts – THANK YOU!
We have adopted a Holiday Tree on the Windsor Town Green in the Charlie Brown Holiday Tree Grove. We would love to have you help us decorate it!
For a $25.00 donation, we will create and hang an ornament with YOUR Name, or your Company's or Organization's name on it. This is a one-of-a-kind, custom-made ornament by PrideOutlet.com. The ceramic, heart-shaped ornament will display VIBRANT colors with SCP's logo on one side, and YOUR name on the other!  Your donation supports SCP and is tax-deductible.
When you make your order, PrideOutlet.com will create TWO ornaments – one that we will immediately give to you, and one we will hang on the tree. In addition to this heart ornament, YOU get to choose what LGBTQI+ flag you would like to see represented on one side (pride, progress, trans, bisexual)!  The trees will be on display from December 2nd until January 3rd in Windsor Green. This is a great way to show your ongoing support for our LGBTQI community, as well as great advertising.  You can pick up your personalized ornament from the tree when we un-decorate our tree, or we will deliver it to you in the New Year.
Cost to Sponsor an Ornament: $25
Deadline to sponsor an ornament: MONDAY NOVEMBER 29, 2021!!
THANK YOU – SPONSORSHIPS ARE CURRENTLY SOLD OUT
Sample of Tree Ordainment