Subversive Submersive #2: a September swim for every body
September 28, 2019 @ 3:00 pm

-

6:00 pm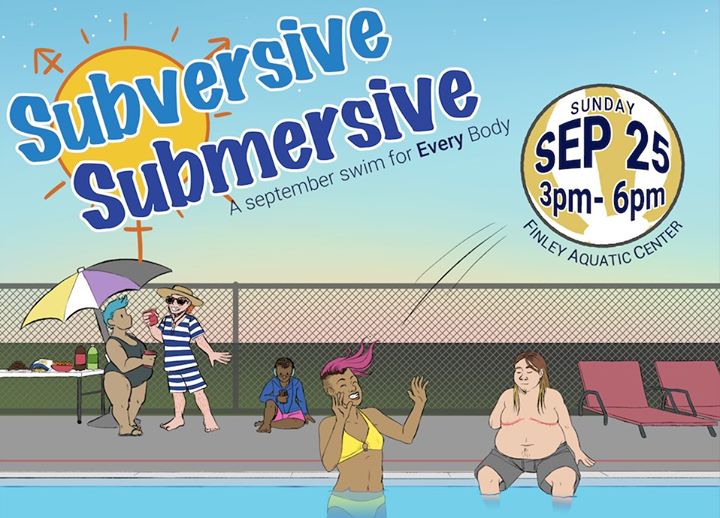 We're back for Subversive Submersive #2: a September swim for every body. Yes fats! Yes trans! Yes femmes!
[Please read through the event logistics below!]
Saturday, September 28, 3:00pm-6:00pm at Finley Aquatic Center: 2060 W College Ave, Santa Rosa, CA 95401
WHAT
We are fat and/or queer and/or trans and/or disabled and/or neurodivergent. We are tired of being stared at when we just want to be in the water. Maybe you are too. Maybe you want to join us as we create a safe(r) space to swim. We have rented out Finley Aquatic Center for the evening, and are excited to splash around with current and new friends.
This is the subversive part: This is not a space to judge anybody's bodies, including our own, no matter their race, size, shape, scars, stretch marks, wrinkles, or colors. We are building a site of celebration, so let's avoid diet talk, staring, judging, assuming, etc.
TICKETS
Admission is $10 and includes vegan and vegetarian and gluten-free snacks. This is a sliding scale event – nobody turned away for lack of funds.
Please reserve your spot at https://queerswim.brownpapertickets.com/
PLEASE BRING
Yourself and your friends of any age
Something to wear that is "swim fabric," or feel free to come hang out and not swim.
Towels! Beach towels!
Snacks and non-alcoholic drinks if you might want things we don't have…
PLEASE LEAVE AT HOME
Pool floaties, glass containers, pets
ACCESSIBILITY / THE POOL
The Finley Aquatic Center consists of a _deep pool_ (with two low diving boards) that is 3ft 6in to 12ft 6in depth and an L-shaped _shallow pool_ that is from 2ft to 3ft depth.
Deep pool: There is a 50-foot long ramp with a transfer bench and a soft mat for easy transfer into the pool. There are two steps in the water at the ramp transfer bench to assist customers to enter the pool into 3ft 6in water depth. The pool also has a Spectrum Products Traveler ADA Seat Lift is rated for up to 500 lbs (including chair) and all of the lifeguards are trained on its operation.
Shallow pool: has four steps at two locations with railings to assist customers into 3 ft water depth.
Satellite view of the pool is here: https://goo.gl/maps/EfVudrFptLqkZGhV6
[If you know anything about Finley accessibility, please share. Parking and changing room info are below.]
LOCKER ROOMS
There is a gender-neutral "family restroom" available, and two choose-your-own-binary-gender-adventure (no gender policing) locker rooms with coin-operated lockers. Each locker room should have an ADA shower stall which has a seat bench, shower curtain and adjustable shower wand [this hasn't been confirmed, but is what the rep told us].
LIFEGUARDS
We will chat with the lifeguards to make sure they're prepared to be respectful. Here is the statement they gave when we asked about lifeguard staff training: "At our Staff In-Service Training, staff are trained on how to respectfully serve and accommodate any participant with ADA needs, including ADA seat lift operation, providing special flotation devices as needed, admitting helpers/aides at no charge, ADA Service Animal use, accessibility and treating everyone with patience and respect. Our staff also receive training on diversity and inclusion for all protected classes."
TRANSIT
It looks like Sunday schedules make the 6 the closest stop, at 1.1 miles away. If transportation is a barrier, please post here or message Iridescence Events
PARKING
The Finley Center entrance off of West College Avenue will put you closest to the Aquatic Center. Once you pull into the lot you can go directly forward to a drop-off circle which has a short paved walk to the pool complex, or turn right into one of the two rows of parking closest to the pool. There are four placard parking spots, two of which are van-friendly, and there are curb cuts/paved paths all the way in.
ENTRANCE
If you've been to the Finley during regular swim hours, you probably entered through the lobby and paid at the counter. The lobby is locked to the outside during our party, and you'll enter to the right of it at the outdoor gates. We'll be hanging out with a table and some signs.