Mendocino PRIDE Weekend Kiki at Groundswell
May 10, 2019 @ 12:00 pm

-

May 12, 2019 @ 4:00 pm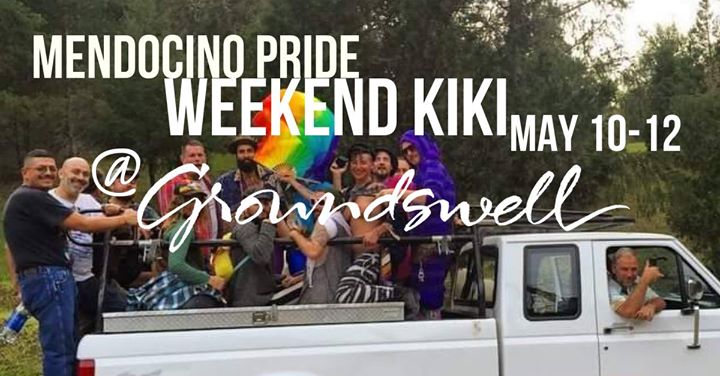 Mendocino PRIDE is just around the corner kicking off a beautiful season of being PROUD of our beautiful QUEER selves!
Mendo PRIDE is on Saturday May 11 BUT for those of you looking to turn your WHOLE weekend into something a bit more queer n' prideful, join us ON THE LAND at Groundswell 💥☀️✌️
We're excited to open our gates on Friday afternoon and leave them open all weekend long. Join us Friday for some afternoon creekside sun, a fabulous dinner, and some love around the fire. Bring drums, guitars, ukaleles, and your favorite beverage to share. Cozy up in a cabin or nestle your tent in the redwood grove for the evening. We'll have a Continental Breakfast spread put out Saturday morning before heading into Ukiah for Mendocino PRIDE. Make it your day–march, chill, find a new cutie and join us all at the Ukiah Brewing Company for a late night show Drag Bomb! Annnnd, then head back to Groundswell for a late late night hot tub party and to rest your weary bodies. A Sunday Morning Brunch Kiki not to be missed wraps up the weekend. Bring your own champers, we'll supply the Brunch and Orange Juice 🥂🍳🧡
🕶️ Join us for some of or the whole weekend! Joining all weekend? We're asking a contribution of $100 to cover lodging, food, and fees. Just an overnight and a meal? 50 bucks will do ya. If you are in need of financial assistance, just send a note to info@groundswellretreat.com and we'll sort you out.
Head over to https://bit.ly/2V8wlt7 to register ❤️🧡💛💚💙💜🖤
Mendocino PRIDE: https://m.facebook.com/events/647943768934448