GAYlactic Celebration Space Spectacular at Russian River Pride
September 7, 2019 @ 8:00 pm

-

10:00 pm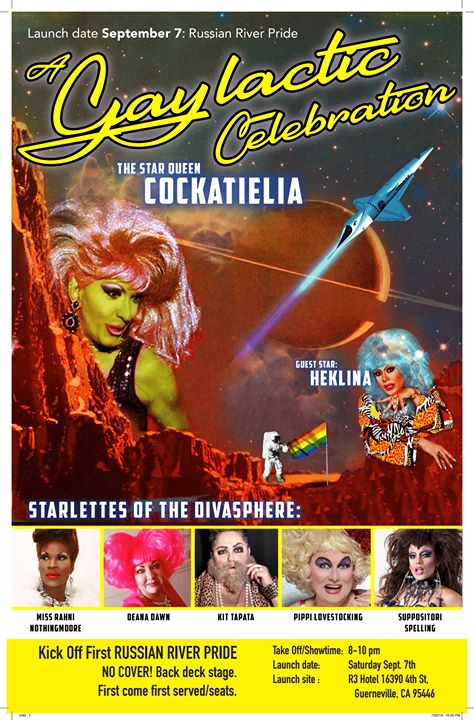 Stardate: 9.7.2019
Coordinates: Guerneville, California, USA, Earth
Assignment: ASCEND ON RUSSIAN RIVER PRIDE PARADE, STREET PARTY AND ✨TWILIGHT SPACE SPECTACULAR SHOW✨
Take Off: Saturday 8-10 pm
✶ Board the Radiant and Remastered STARSHIP R3 as we BLAST OFF the first annual RUSSIAN RIVER PRIDE with a GAYlactic Celebration of Astronomical Drag Anomalies! ✶
The Star Queen COCKATIELIA will mind meld you to Interplanetary Magnetic Fields of Entertainment and Luminosity! Featuring Supernova Guest Star HEKLINA!
CONTEST FOR BEST SPACED OUT COSTUME! The Category Is….. Alpha Centauri Realness!
Bring on your best space look to rock your Space Walk on MISS RHANI'S RUNWAY! WIN a fabulous First Prize of a One Night Stay at the R3 Hotel!
YOUR CREW: The Gorgeous GAYlactic Guardians of Starship R3
SPOCKATIELIA ✦ The Space-Time Continuum Queen's Rise from Suspended Animation!
HEKLINA ✦ The MOTHERship of Full Moons & Interplanetary Drag Asstronomy
PIPPI LOVESTOCKING ✦ The Lunatic Fantastic Lost in Space Stand Up from Virtual Venus
SUPPOSITORI SPELLING ✦ The Exxx-tra Torerrestrial Wormhole of Space Sass & Lip Service
MISS RHANI NOTHINGMORE ✦ The Celestial Soular Goddess of Constellations & Interstellar Motion
DEANA DAWN ✦ The Glittering Gravitational Ultraviolet Orbits of the Milky Way
KIT TAPATA ✦ The Queer Cosmonot Bad Assteroid of the Forbidden Planet Claire
NO COVER!!! WHAT!?!? AFFIRMATIVE! FREE!!!
Open seating. First come, First Served.
BEAM UP at the R3 POOLSIDE BAR!
http://ther3hotel.com/
Live Long and Prosper Guerneville!