2019 Sonoma County Pride Weekend
May 31 @ 11:00 am

-

June 2 @ 6:00 pm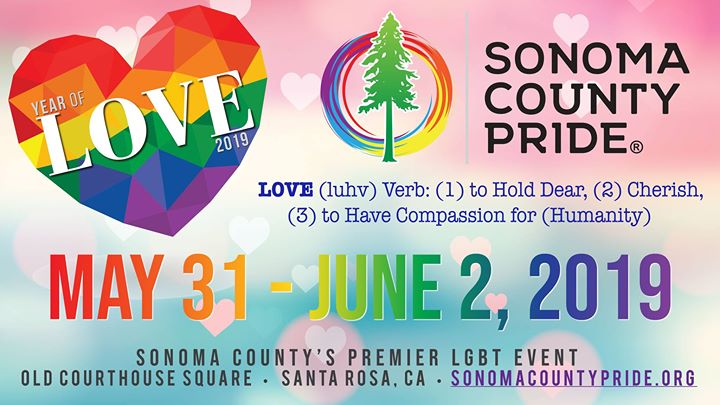 LOVE (luhv) Verb: (1) to Hold Dear (2) Cherish, (3) to Have Compassion for (as in humanity)
In 1967, reflecting generational change, thousands of young people from around the country descended on the bay area for the Summer of Love. Our world changed that summer.
Today we live in a world ever more culturally and politically divided. Technology and social media have allowed fake news to spread and social media creates echo chambers where we only see and hear the views we already agree with. As a result of the growing division in our culture, discrimination and incidents of hate are increasing at an alarming pace.
Sonoma County Pride invites you to join us as we push all of that aside and celebrate and nurture the one thing that can defeat Hate – LOVE. As The Beatles once sang, All You Need is Love. Each of our Pride weekend events has a Love theme. We encourage our participants to embrace the theme in their own unique way and show he world your LOVE!
Our Parade, Festival & Picnic are FREE! – We are offering A limited number of special All-Event Pride Passports which will cover the entry fees for the following events:
Pride Passport holders receive:
Commemorative Admission Credentials for:
Equality Vines Presents A Fireside Chat with Jim Obergefell(May 31)
Neon Love a 2019 Sonoma County Pride Kickoff Party (May 31)
VIP Lounge at Love in the Square with Complimentary Cocktails (June 1)
Featured Entertainer Meet & Greet (June 1)
GayDar Presents: Love Shack Official Pride After-Party(June 1)
Peace, Love & Wine (June 2)
Pride Is Love At The Lagunitas Taproom (June 8)
Don't Blink -It's Love: A Short Film Program (June 9)
Passport Holders Pride Experience Swag Bag:
2019 Pride T-shirt
Two Splits of Bubbly
2019 Pride Guide
SCP Oval Sticker
Pride Heart Pin
Special Pride Swag provided by our sponsors and allies
Tickets are available at: https://www.eventbrite.com/o/sonoma-county-pride-20020562751