1st Annual Bay Area Cannabis Pride Celebration
July 11, 2019 @ 7:00 pm

-

11:00 pm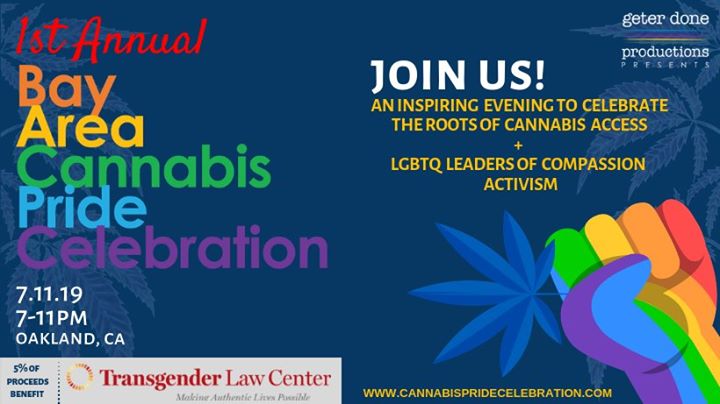 Welcome to the very 1st Annual Bay Area Cannabis PRIDE Celebration. Yahoo!!!
🌈 Mark your calendars 7/11/19 • 7-11pm Oakland
Tali Eisenberg w/ Geter Done Productions @tali_lala in partnership w/ Brian Applegarth will be bringing their next inspiring community cannabis celebration to Oakland for this deeply inspiring, historic evening!
🌐 Please join us in supporting the 1st Annual Bay Area Cannabis Pride Celebration 🌿🏳️‍🌈!!!
•
🌐 Tali & Brian have gathered together an inclusive group of local Bay Area Cannabis Brands + social justice organizations for a community cannabis showcase to celebrate the roots of cannabis access + compassion activism + highlight the role LGBTQAI community played in the legalization of cannabis in California, which now has rippled into a global movement of access and industry. .
🌐 Tix + Info: www.cannabispridecelebration.com
🌐This special immersive cannabis celebration will showcase:
+ LGBTQ-inclusive Local Craft Cannabis Brands, Brand Allies + Social Justice organizations
+ Screening of @Brian Applegarth's film "The Secret Story: How Medical Cannabis Was Re-Legalized in the US", an award-winning 16-min documentary

+ Storytelling from essential LGBTQ Compassion Activists in the original medical cannabis movement which brought cannabis medicine to the people
+ 🕺🏿💃🏼An end of the night Community Pride Dance Party with Special Guests – because WE ALL NEED A GOOD DANCE PARTY RIGHT NOW- DON'T WE?! 🙂
<3 Compassion Fundraiser: 5% of the evening's proceeds will be donated to the Transgender Law Center @translawcenter + the important work they do fighting for equal legal rights for the trans community. Do you want to partner with us and SPONSOR this evening? 🌐 Brand Sponsorships are still available to seed this 1st Annual Bay Area Cannabis Pride Celebration for years to come...and if you know others who would support, go to https://777.ticketspice.com/bay-area-cannabis-pride-sponsors 🌈 Come Celebrate + Honor the LGBTQ community for this historic evening! 🎫 Grab your tickets + sponsor today! <3 In this together! Tali + Brian www.cannabispridecelebration.com Ticket Info: https://777.ticketspice.com/bay-area-cannabis-pride-celebration Tali Eisenberg, Geter Done Productions, LLC Brian Applegarth, The Cannabis Trail Event Assist, Kat Parkin, Off Playa Productions & Vizual Nektar Social Justice Groups: Transgender Law Center Brownie Mary Democratic Club - SF Chapter Operation EVAC Oakland LGBTQ Community Center Brand Sponsors & Partners: Thank You!!! 4twenty Group AbsoluteXtracts Bay Area Reporter @BowlandPlant Magazine Brite Labs California Cannabis Industry Association CannaSafe Changemaker Creative Cosmic View Countervail Inc Eaze Empress Showcase First Cut Farms Flow Kana Garden Society Geter Done Productions Harborside Honey Pot James Henry SF Kikoko @LemonstrikeCreative Studios Lucky 420s MJ Lifestyle OovLifestyle Pilar Starr Woodman RosetteWellness Sava Sexxpot Somatik The Cannabis Trail The Farmaceuticals Co. The People's Dispensary Vizual Nektar Tali Eisenberg is a Board Certified Holistic Health Practitioner, Cannabis Educator, Brand Consultant, and Community Speaker. She has been in the health and wellness industry for the last 20+ years. Currently, Tali Eisenberg leads community cannabis education programs throughout the Bay. She also leads senior cannabis education programs for the three years now in dispensaries throughout the Bay. To date, this senior outreach program has now taught over three thousand seniors on the science and medicinal benefits of cannabis for health, wellness, and aging. Geter Done Productions, LLC is a wonder-filled Event Planning & Production company specializing in cannabis events through the intersections of community, education and activism.