Sonoma County Pride "Beyond The Rainbow" Drive-Thru Parade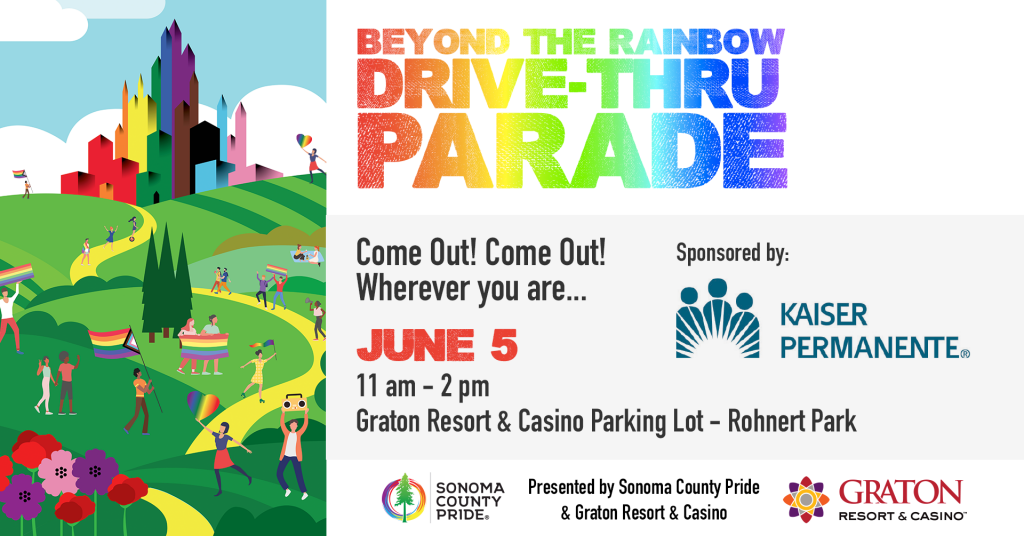 Sonoma County Pride & Graton Resort & Casino presents "Beyond The Rainbow" Drive-Thru Annual Pride Parade.
Sonoma County Pride is pleased to welcome back Graton Resort & Casino as Annual Title Sponsor of this year's Pride celebrations, and host of this year's unique re-imagined "Beyond the Rainbow Drive Through Parade" on Saturday, June 5! A cornerstone of this year's month of celebration, the Parade acknowledges and respects the need for COVID-19 safety and social distancing by re-imagining the event as a drive-through experience. Organizations and contingents will occupy defined spaces for their floats and celebrants, allowing attendees to drive through to experience the excitement and community of Pride in this unique, safe manner. A streaming soundtrack will be available to guide and entertain parade-goers as they make their way through the space.
NO ADMISSION FEE! – A suggested donation of $5 at the gate, or a donation of your choice is greatly appreciated 🙂
We kindly ask that you register for a time slot for the parade to help with traffic flow and safety.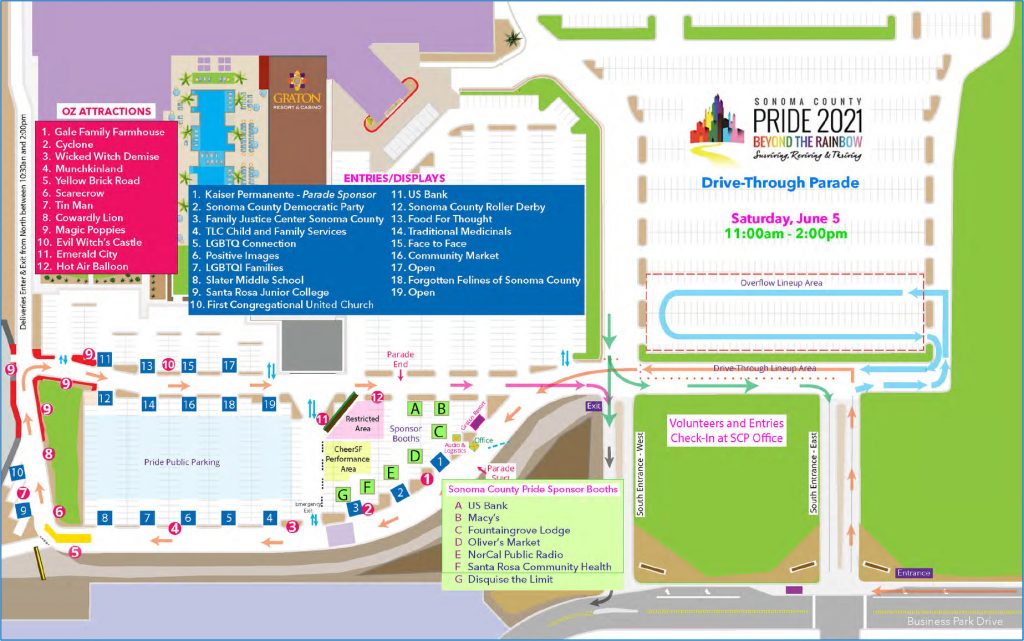 If you have not registered for your time slot to drive thru-there is still time!
We have been hard at work putting the finishing touches on the parade. We are excited that every display/stationary float space has been taken and that since COVID-19 restrictions have eased a bit we are able to offer the additional option to stop and park in the center of the parade route (limit 1⁄2 hour) where you and your car-mates can get out and stretch and visit our sponsors who will have some fun activities and giveaways. Also, you can watch the fantastic Cheer SF cheerleaders perform. Sneak preview at:
https://www.cheersf.org/see
In addition, several of our sponsors have booths and would like to meet you. They will have giveaways, information, and activities. Please note to accommodate all our visitors, the parking time in the sponsor area is limited to 30 minutes, and a face mask must be worn whenever you exit your vehicle.
Please be patient with our volunteers and parade staff. They have all volunteered their time to give you an enjoyable experience.
Facial Coverings Required when Outside Vehicle
Six Foot Social Distancing Requirements in Effect
Observe & Comply with Signals of Traffic Flaggers
Speed Limit 5 MPH
Stay in Your Car – No Walking on Parade Route
No Parking on Parade Route
No Unaccompanied Minors Permitted in Venue
Open Alcohol Not Permitted in Event Areas
30-Minute Parking Limit in the Sponsor Booth Area
The parade is offered to the community at no charge. A Donation of Your Choosing is Great Appreciated. There will be a donation collection at the beginning and end of the parade.
[ics_button subject="2021 Sonoma County Pride Beyond the Rainbow Parade" description="2021 Sonoma County Pride Beyond the Rainbow Parade" location="Graton Resort & Casino" start-date="2021-06-05 11:00″ end-date="2021-06-05 14:00″]

[/ics_button]