Tuesday Open Mic at Brew
February 13, 2018 @ 11:00 am

-

1:00 pm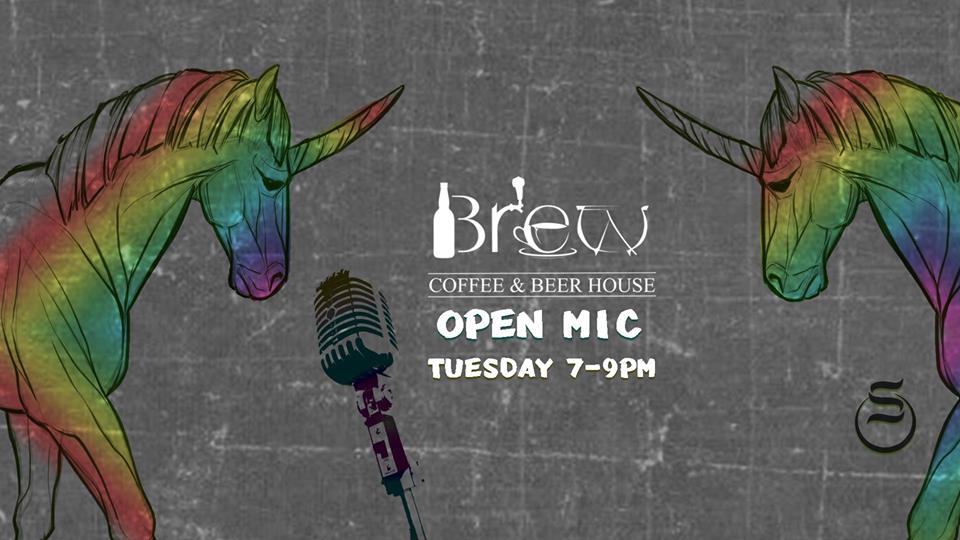 Isabelle Garson and Colton Silvers host Tuesday Open Mic at Brew!
★Got something to share?★
🎤 Play an intimate setting in 10 minute sets. No minimum share as much as you're comfortable with.
🎤 Sign up in advance on the Facebook event page here and now for slots during the first hour — just comment your name, or stage name, the time you'd like to play and whether you're playing music, comedy, poetry, doing spoken word or performance art… Really, the sky's not even the limit here. Bring it. Time slots on a first come first serve basis, including bonus slots available at the event only.
★Note The Time You Want in the Comments★
🎤 HOUR ONE – 10 Minute Sets
➡ See Pinned Post in the Discussion for Weekly Sign Ups ⬅
🎤 HOUR TWO – 10 Minute Sets
➡ SIGN UP AT EVENT ONLY starting at 6:50 PM ⬅
🎤 We'll post in the event if we've reached capacity for pre-sign ups before 7PM on Tuesday – sign up at the event after 7 for slots after 8PM & BONUS Slots!
🎤 We have a PA, 2 mics, 1/4″ input, XLR cable
🎤 Bring cords, small amps and instruments — bear in mind Brew is a delightful and small room
🍻 Or Come to Watch and Cheer(s)! 🥂
☕ At Tuesday Open Mic at Brew you can enjoy live, local music, spoken word, comedy, poetry, delicious beer, coffee and gnoshery.
★More info on Brew here: brewcoffeeandbeer.com★